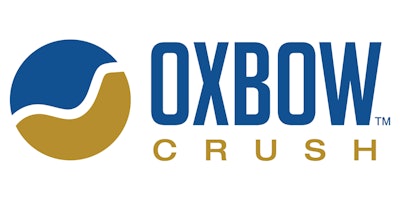 Oxbow Crush LLC has acquired a soybean processing plant located in Greenwood, Mississippi, previously owned by Express Grain Terminals.
Earlier this month, Express Grain Terminal's former CEO, John Coleman, was charged with five counts of making false representations to defraud government and one count of false pretenses. He faces up to 180 years in prison.
When fully operational, the Oxbow Crush plant will process over 20 million bushels/year.
The company named Greg Piper as CEO and Rick Kim as chief operating officer.
Piper brings more than 30 years of experience across the agricultural and energy industries. Kim brings over 20 years of operational and engineering experience in processing and material handling.
"The Oxbow team is excited to own and modernize this important facility that will support the agriculture economy in Mississippi," said Piper." Upgrades to the plant are ongoing, and we look forward to continuing to build our team and to restarting operations in early 2023."
Upgrades to the facility
Oxbow's initial focus is on upgrading the plant to meet industry standards for safety, reliability and efficiency. The upgrades also include an expansion to increase processing capacity and improvements to grain unloading and handling facilities.
"We're proud to be bringing the facility back to life," said Kim. "This business will be an integral part of the city of Greenwood and of the Delta's agricultural community for decades to come."
Oxbow will purchase and process soybeans and produce high-protein soybean meal and soybean hulls for animal feeds, and various grades of soybean oil for food, feed, and renewable fuels, including soybean oil for the growing renewable diesel industry.
Hiring and filling dozens of positions

As part of the acquisition, Oxbow also acquired an onsite biodiesel refinery but has no intention of operating the facility.
"Oxbow is hiring and will be filling dozens of positions now through early 2023," Kim continued.
When fully operational the plant will have approximately 75 positions.
"It's a new day for this business," said Kim. "We're proud to be an integral part of the Delta's agricultural community and grateful for the local support we've received and look forward to building a world-class business."

Oxbow completes fundraising
In addition to the acquisition, Oxbow also completed funding arrangements from a group of investors including The Energy and Minerals Group, Yorktown Energy Partners XII, L.P., Solaris Energy Capital and Thoroughbred Holdings.
"We're extremely excited about the investment, including the opportunity to service the tremendous soybean meal demand locally as well as the soybean oil demand regionally and in the Gulf Coast renewable fuels refining market," said Charlie Wesley, managing partner at Thoroughbred Holdings.
"We and our financial partners have decades of experience funding and building businesses, and strong conviction that Oxbow and this processing plant are well-positioned for success."