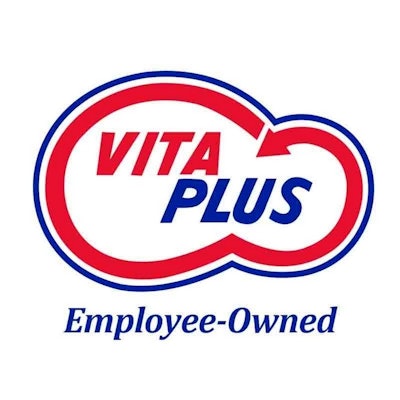 Vita Plus has adds several new members to its team.
Brad Auger recently joined Vita Plus as grain merchandising manager. He will work with all Vita Plus facilities across the Midwest to fulfill grain needs for the feed business while focusing on grain origination, merchandising and risk management through effective hedging.
Auger will also work directly with farmers, helping them navigate the volatile, ever-changing marketplace.
Auger earned his bachelor's degrees in political science and psychology at the University of Central Missouri. He's spent his career in the grain and feed industry with previous work as a grain merchandiser and grain facility manager and leading the grain division for a local multisite grain elevator.
He brings 18 years of experience in accounting, production, transportation, logistics, and buying and selling commodities to his role at Vita Plus. Auger also has a passion for working with farmers and serving as a resource as they think through their grain marketing strategies.
Dr. Paulina Letelier recently joined the company as a dairy nutritionist and technical services specialist. She will provide nutrition and management consulting to dairy producers throughout northeast Wisconsin. Additionally, Letelier will provide field-driven technical support for fellow Vita Plus consultants in the region.
Letelier recently completed her Ph.D. in dairy science, specializing in ruminant nutrition, at the University of Wisconsin-Madison. Her research focused on utilization of dietary crude protein, amino acids and nitrogen use efficiency.
Letelier earned a master's degree at UW-Madison with research focused on the effect of life cycle assessment methods on the environmental footprint of dual-purpose cattle systems. She also holds a doctor of veterinary medicine degree from the University Mayor in Chile.
Chandler Kurth recently joined Vita Plus as a dairy specialist in Minnesota and South Dakota. He will use cutting-edge ration formulation software to provide high-quality rations and solutions to help dairy producers reach their production goals.
In addition, Kurth will remain up-to-date on industry research and technologies to serve customers now and in the future.
Kurth grew up on his family's dairy farm in Hutchinson, MN. He attended the University of Minnesota-Twin Cities and earned his bachelor's degree in animal science.
While in school, Kurth was active in the Gopher Dairy Club and Alpha Gamma Rho fraternity. He was also a statewide leader of the Minnesota Junior Holstein Association. He has experience working as a professional dairy cattle fitter, hoof trimmer, and show assistant nationwide, and worked as a production intern on a large dairy operation.
Jonathan Ydstie recently joined Vita Plus as a dairy consultant and business development specialist in South Dakota, working with farms along the I-29 corridor.
He will use his experience as a large-herd dairy manager and his extensive industry experience to help provide high-quality diet formulation, management expertise, and customized solutions to help dairy producers reach their production and management goals.
Ydstie grew up on a North Dakota dairy farm and has spent his entire career within the dairy industry in various capacities. He managed several large dairies in North Dakota and South Dakota before transitioning to technical service and leadership roles with other companies in the industry.
Ydstie earned a bachelor's degree in animal science at North Dakota State University and a master's degree in dairy production at South Dakota State University. Ydstie has been an active 4-H member, leader, and supporter, and he continues to develop his own small herd of registered Brown Swiss cattle.