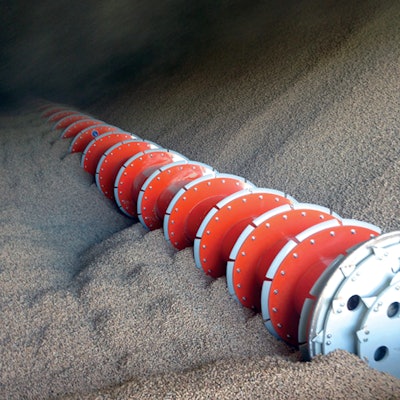 One of the primary functions of any facility manager where grain is stored is to maintain material flow for optimal productivity and profitability. Grain that isn't flowing cannot be shipped out to customers or made into feed, nor can the bin be emptied for cleanout.
Bin cleanout is necessary for a variety of reasons and is done at varying frequencies, depending on the contents of the bin and the desired grain quality the manager wants to achieve.
This article will explain three different bin cleanout scenarios and provide an example of the type of equipment suited for each application.
Situation: Grain Bridging
Solution: Pneumatic-powered whip
A grain bridge occurs when a mass of crusted grain is suspended above an area of free-flowing grain. It can happen as the result of grain quality issues inside the bin or if the vessel has not been thoroughly cleaned in a long time.
This scenario requires mechanical force to remove the bridge. Pneumatic-powered bin whips with fast-spinning heads that knock grain off the sides of the wall are a popular option.
Pneumat Systems, Inc. of Mankato, MN, has been providing the BinWhip for the past 32 years. The BinWhip was designed to be operated from the top of a concrete silo, eliminating the hazards and paperwork of confined space entry. It is hydraulically powered and does not require air, but only food grade hydraulic oil, making it a safe option in confined spaces.
The BinWhip is ideal for concrete silos with flat tops. "Conical corrugated steel bins don't lend themselves very well to our system," says Sam Cebula, sales and marketing manager for Pneumat Systems, Inc. In addition to selling the BinWhip equipment, the company also provides a bin cleanout service called Team Pneumat. When determining whether your facility should buy equipment or hire a service, it comes down to frequency.
"If a customer only has an occasional problem, financially it makes more sense to hire our services to take care of it on a limited basis," Cebula says. "But for other customers with more frequent bin cleaning needs, it's in their best interest to purchase a system."
Situation: Hot Spots
Solution: Grain vacuum
Oftentimes before a grain bridge has formed inside a bin, early signs of deterioration will become evident in the form of hot spots. Hot spots indicate that mold is growing or an insect population has taken hold in a certain area of the bin. The precision of a grain vacuum can give users the ability to remove the affected area from the bin.
"Our PTO-powered Grain-Vacs and diesel-powered Grain-Vacs are great for bin cleanout," says Jonathan Medemblik, marketing and advertising, for Geulph, Ontario-based Walinga.
The Walinga Agri-Vac works by drawing grain to the conical receiver which creates cyclonic action, thus acting as a precleaner. The grain and the air are then separated in the receiver, the material flows into the rotary airlock and the air moves on to the blower which in turn pushes the material back out of the rotary airlock into the truck or bin pipe.
The system is suitable for any sized grain storage bin.
One advantage of a grain vacuum is that a single operator can fill or empty any storage facility without the use of an elevator leg or auger and can eliminate the need for shovels during bin cleanout.
Situation: Frequent Turnover
Solution: Bin sweep
Some grain handling facilities must clean out their bins more frequently than others to make room for new inventory, such as those that handle both organic or non-GMO grains and conventional grains.
For this application, installing a permanent fixture such as a sweep inside the bin to assist with cleanout can be effective. The CleanSweep by Laidig, Mishawaka, IN, is a bin-entry-free solution that runs on low speed and high torque.
Mike Schuster, VP of sales for Laidig, says their sweep caters to companies that conduct a complete bin cleanout one to two times a month.
"The typical bin sweep empties a bin once or twice a year," Schuster says. "We offer a more rugged, substantial unit that is capable of operating more frequently and doesn't allow build-up to accumulate in the bottom of the bin. The machine is parked by the center sumps and is gravity fed, just like any other bin sweep. But with the CleanSweep, even if there are a lot of fines and dust that are very dense, the available torque will allow the auger to chew through that hard material. Also, if a large pile of material cascades over the top of the auger, it's designed to continue operating."
The CleanSweep is commonly installed in steel or concrete 75-, 90- or 105-foot-diameter bins. ■