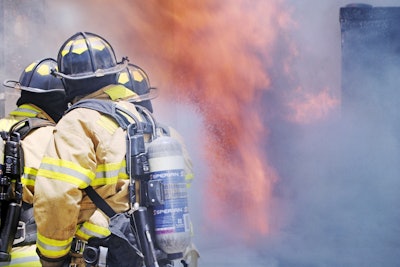 The varied structures, layouts and commodities of grain handling facilities require that each facility create a unique emergency fire containment plan. One thing all emergency plans should have in common is a pre-established relationship with first responders.
Whether a fire emergency allows for an orderly facility shutdown or requires a "cut-and-run" evacuation, maintaining control is possible. Establishing an emergency plan will help you and your employees avoid confusion and mistakes that lead to injury and property loss; interacting with emergency responders BEFORE an emergency is a crucial aspect of these plans.
As noted by NGFA in its upcoming firefighting manual, grain facility managers should be aware of how fire control operations will occur, who will be present, what problems may arise and what salvage procedures to use in the aftermath of a fire or explosion.
During a fire emergency, the facility manager and fire official in charge work together to bring the fire under control and assure the safety of employees, firefighters, media and spectators. Some state laws put the fire official in charge of the scene for firefighting, rescue and public safety. The company and fire department should establish the appropriate roles of fire officials and facility management in preplanning meetings.
When arriving at the scene of a fire, the fire official in charge will establish a command post in an area outside the danger zone to direct and observe tactical operations. The facility manager should be involved actively in an advisory, cooperative capacity and provide assistance where and when needed. Both the fire chief and manager (or his or her designee) should outline together their main objectives and actions for bringing the fire emergency under control, such as assisting injured personnel, rescuing trapped workers, taking headcounts and containing the fire.
Set up a staging area for extra fire department equipment and personnel. Extra crews should remain at the staging area to receive orders from the command post concerning the placement of manpower and equipment.
The facility's emergency action plan should list the actions and responsibilities to be taken by employees. The on-scene facility manager should confirm all appropriate tasks are accomplished. Among these actions are:
Meeting the fire command officer upon their arrival at the site and making sure a responsible facility employee is available throughout the firefighting effort to coordinate and assist
Take employee headcounts quickly and report them so that rescue operations can begin if needed
Secure the facility area, all entrances, and all exits
Initiate and maintain contact with relatives of missing employees
Monitor the status of power, water and gas utility (on, off, portable generators, etc.)
Have facility employees or security personnel keep spectators under control; only emergency officials and approved employees should be allowed on the scene
A company spokesperson is providing briefings to the media
Mutual aid arrangements and plans for cranes, helicopters, etc., are in place
Liaison with other outside agencies
Besides fire department crews, paramedics and ambulance services, there likely will be other agencies or groups responding to the disaster or emergency call. Representatives of any of the following groups may be present at a fire or explosion scene:
Occupational Safety and Health Administration (state or federal)
Chemical Safety and Hazard Investigation Board
News media (newspapers, TV crews, radio, etc.)
Social service groups (Red Cross, Salvation Army, etc.)
Local disaster or civil defense agency
Coast Guard and
port officials
Law enforcement
Insurance officials
Facility management should consider developing a communications policy with outside agencies and the media and then brief employees on the company's policy. A company should consider having a single spokesperson designated to provide factual information as it becomes available. Clear all information from the spokesperson by the facility manager or the incident commander before release.
No outside personnel should be allowed in the immediate fire area or danger zone. Have the company spokesperson brief all press and outside agencies at a proper staging area. Anyone needing to contact the facility manager or the incident commander should obtain clearance through the command post.
Salvage operations may begin once it is safe to do so without interfering with firefighting or rescue operations. Some salvage actions might be safe to take during the fire, such as removing trucks and railcars or other easily transportable equipment from the fire vicinity (employees should not operate any facility equipment in the presence of a flame or heat source).
Companies can consult insurance representatives for help in salvage matters and in contacting salvage companies.
New safety manual
During its 125th anniversary year, the NGFA is focused on "transforming workplace safety culture" by working to create a culture of safety in every facility and farm where grain is handled and potentially save lives tragically lost in grain-related incidents every year.
To supplement an already robust suite of safety training materials available at ngfa.org/safety, NGFA will publish a new "Firefighting Manual: A Guide for Operators of Grain Handling Facilities and Fire Department Officials" in 2021.
Visit ngfa.org/safety for more details or contact Jim Seibert, NGFA's director of safety, education and training, at [email protected] for orders and other information. ■
Want more information?
Join Feed & Grain LIVE and NGFA's Jim Seibert to learn more tips & tricks during the Plan to Prevent Fires & Explosions webinar on June 23 at 1 p.m. Visit live.feedandgrain.com to register today!