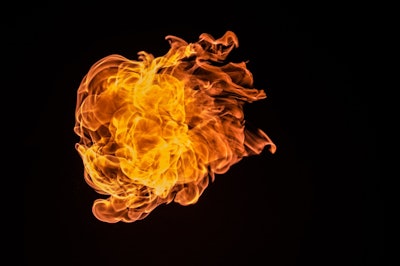 Oxygen, heat, fuel, dispersion and confinement. These terms are often referred to as the "dust explosion pentagon" and understanding how they interact is crucial for anyone working at a grain handling facility.
Over the past four decades, effective regulatory measures and industry-driven guidance have dramatically improved the general knowledge of this explosion recipe and the overall safety of grain handling facilities, but we cannot rest in our efforts to control potential ignition sources, establish effective work procedures, and manage grain dust emissions. The NGFA's most recently-published training materials outline the latest research and best safety practices that are crucial to understanding grain dust hazards and preventing catastrophic dust explosions.
The Last 40 Years
Since the early 1980s, commercial grain-handling facilities have dramatically reduced the number and severity of fires and explosions, thanks in part to the National Grain and Feed Association's groundbreaking research that identified the major causes and developed new elevator design, equipment and operating practices to improve safety. The Occupational Safety and Health Administration's (OSHA) grain handling standard, 29 CFR 1910.272, promulgated in 1988, is designed to minimize ignition sources and control combustible dust and has proven to be an extraordinarily effective regulatory measure.
The NGFA worked with OSHA to develop the grain handling standard, principally to address fires and explosions. Since the standard was implemented, the NGFA continued working with OSHA officials to clarify compliance requirements and convey this information to industry. In addition, OSHA has published compliance information, including a booklet explaining the standard's requirements and enforcement guidance for compliance officers clarifying regulatory obligations under the standard.
Great strides have been made in reducing the frequency and severity of fires and explosions at grain handling facilities over the last 42 years. NGFA's guidelines followed and supported by the OSHA grain handling standard have resulted in the industry investing hundreds of millions of dollars in new equipment, dust collection systems and other more modern mechanical equipment, along with annual operating and cleaning costs on top of this original investment.
Since 2015, Purdue University has gathered information on grain dust explosions in the United States. These data show that between 1976-1990 and 2006-2018, explosions declined 54 percent, injuries declined 72 percent and fatalities declined 89 percent — even as the amount of grain handled increased significantly. From 1976-1990, the grain industry handled annually an average of 13.4 billion bushels of grain, whereas from 2006-2018 an average of 20.0 billion bushels was handled. Even with this 49 percent increase in the quantity of bushels handled during these time periods, the number of explosions, fatalities and injuries dropped significantly.
Don't Stop Now: The safety improvement record indicates that more than 80 percent of the grain dust safety hazard now has been eliminated. But grain dust explosions still occur every year. Until we reach the goal of zero grain dust explosions, the effort to increase awareness of grain dust hazards, ignition sources, and best practices will continue. Highly-trained workers and supervisors must understand and apply best safety practices in day-to-day operations.
It's impossible to completely eliminate the presence of dust in grain handling environments, but if every worker understands how dust explosions occur and how to take steps to prevent them, we can continue to move toward the "zero dust explosions per year" goal.
Safety Training Video: The most recent safety training video funded by the National Grain and Feed Foundation outlines important housekeeping procedures and identifies potential ignition sources for combustible dust. Watch "Combustible Dust Safety" at ngfa.org/safety.
Ingredients in an Explosions: As noted in an OSHA Fact Sheet: "In addition to the familiar fire triangle of oxygen, heat and fuel (the dust), dispersion of dust particles in sufficient quantity and concentration can cause rapid combustion known as deflagration. If the event is confined by an enclosure such as a building, room, vessel or process equipment, the resulting pressure rise may cause an explosion. These five factors (oxygen, heat, fuel, dispersion and confinement) are known as the Dust Explosion Pentagon. If one element of the pentagon is missing, an explosion cannot occur."
Grain dust explosions often begin with a primary explosion in an enclosed bucket elevator leg, silo, dust collector, or other grain handling equipment. This primary explosion can then set off a series of damaging and potentially devastating secondary explosions. The primary explosion generates pressure waves and vibrations that shake the surrounding area, dislodging dust that may be present on walls, ledges, and equipment. This new airborne dust provides more fuel and can cause a chain reaction of secondary explosions, which continue until the fuel is consumed or the pressures are vented.
Housekeeping is for Everyone: Controlling grain dust can significantly reduce the possibility and severity of explosions and simple and effective housekeeping is the first line of defense. Simple, manual housekeeping tasks that are safe for all employees include: replacing bin covers and lids; making sure enclosed conveyors are kept closed and covers are secured; always closing and securing access panels and doors; cleaning up grain spills promptly; and regularly wiping off any dust that gathers on equipment that produces heat, especially dust that contacts heat sources, such as moving parts or bearings.
Housekeeping effectiveness should be measured by routine inspections by facility personnel of the operating areas of a facility. A written housekeeping plan – one of the requirements under the OSHA grain handling standard – is established to formalize a company's policies on the procedures to be followed to regularly inspect for housekeeping conditions and to take action to correct conditions considered deficient (i.e. accumulations of fugitive grain dust on ledges, floors, equipment and other exposed surfaces) as soon as possible.
Where's the Ignition? Grain handling facilities can minimize the chances of explosions by eliminating common ignition sources. Preventive maintenance programs are key to overall efforts to control dust. (Preventive maintenance refers to the regular inspection, lubrication, maintenance and repair of equipment to keep the facility running efficiently and safely). Regular, scheduled inspections should be conducted of the mechanical and safety control equipment, including grain dryers, grain stream processing equipment, grain dust collection equipment (including filter collectors) and bucket elevators. Malfunctioning or defective equipment should to be repaired promptly to control fugitive dust or any non-routine leak.
What Can Employees Do? Many grain handling facilities empower their employees with a "Stop Work Authority" for any unsafe situation. Companies are expected to conduct periodic safety meetings that elicit employee feedback and employees are strongly encouraged to raise any safety-related concern with their supervisor.
The NGFA provides educational material that is available to both members and non-members within our expansive industry. This includes videos, webinars, workshops and guidance documents. The material is designed to provide updates on emerging and evolving regulatory requirements and more information on certain types of hazards and suggested ways to protect employees through safety best practices. NGFA's Safety and Health Compliance Manual has a housekeeping section that includes recommended best practices for both developing and implementing a plan to comply with the requirements of OSHA's grain handling standard. This manual can be found under "Guidance Documents" at ngfa.org/safety.
Finally, I'll again draw your attention to the most recent safety training video funded by the National Grain and Feed Foundation, "Combustible Dust Safety."
This 8-minute video is a succinct and effective — and no-cost — way to supplement safety training programs. This video, and other safety training materials developed by the NGFA, should be shared with colleagues whenever possible.
Let's continue to work toward "zero dust explosions" per year. Find resources at ngfa.org/safety.
Jess McCluer, vice president of safety and regulatory affairs for the National Grain and Feed Association (NGFA), manages NGFA's operational programs concerning employee safety and industrial health, environmental issues, grain-handling facility design and equipment, and grain inspection and weighing issues. McCluer joined NGFA in 2007 after serving since April 2003 as a program analyst at the Occupational Safety and Health Administration's Office of Outreach Services and Alliances.