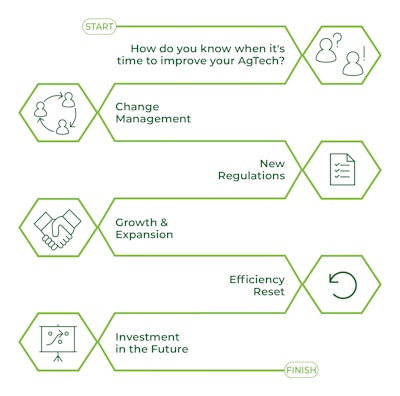 There comes a point in every agribusiness where we need to evaluate our systems, business rules, the way we operate and even how we engage with our customers. This catalyst for change can appear in many different ways such as shifts in key personnel, new regulations, expansion or looking for ways to improve efficiencies in the business. I would like to share a set of principles that organizations typically face today, all of which are leading indicators as to when you should consider further investment in agtech (agricultural technology).
Change management
We often see key roles, whether in leadership or functional areas, begin to either age out or move in different directions. Key personnel typically lend significant value to core operational dependencies that we know are mission-critical to business. If we have visibility to these changes, technology can typically ease the disruption to the business.
Experience is a difficult metric to replace, but knowledge and data? Here is where you can leverage technology to hold pertinent information that is critical to daily, quarterly and yearly performance. For instance, Shelly in accounting provides an Excel spreadsheet that details all tickets populated from each elevator. She manages this data daily and manually by having location managers send her their reports. With proper technology, this manual process is resolved by using automatic ticket applications that allow for Shelly to set rules by location, account or contract, and consequently pull all of the data into one easy-to-read dashboard or report.
When you think of agribusiness software and what impact you want it to have on a business, it is truly about automating workflows that key personnel would manage. Think of agtech as the vehicle to take you to a destination and the person managing the workflow as the driver. Depending on where you are going and what you need to accomplish, you need a good driver and a dependable vehicle.
New regulations
In agribusiness, we all have to report to the government in some capacity. Many organizations have roles dedicated to just that purpose. With the right technology in place, businesses are able to pull the reports auditors need to see in real time. The ability to expedite information that is accurate and clear can ease this process with regulators and therefore allow for organizations to access important information in real time.
When encountered with new regulations, agribusinesses should be able to rely on their software to access the data in the exact manner it is required. Software providers can and should be expected to deliver against those requirements.
Growth
Many organizations look to grow through acquisition or mergers. This is an ever-changing factor in our industry. With a strong and experienced agtech partner, transitions for the incoming organization can be much smoother. In terms of the facility and back office, being able to report to board members is a critical objective. Oftentimes you may have an agribusiness with teams that have been there since its inception. This can be of great value, but what you may run into is "we've always done it this way."
"This way" typically resides with one individual who has all the knowledge of the workflow or many roles that have to touch a particular workflow. Businesses can and must automate some of the processes to streamline the workflow and share that knowledge throughout an organization. This is where having the proper technology in place is absolutely crucial for a seamless transition and progress.
In everyday management, leveraging a single core system assists in being able to manage multiple entities and multiple roles, as well as manage information so that your customers have one collective experience. Once a core system is identified, agtech providers use the term "plug and play" which speaks to the ability of bringing in new assets and rolling them into one system of truth.
When evaluating your agtech solution in this capacity, an organization that has a growth plan should consider a provider that has that experience and a software that has enough stability to be able to bring multiple users into one solution.
Efficiencies
To be successful both in terms of growth and profitability, agribusinesses must fully move away from manual entry processes such as Excel sheets and into true agtech where databases drive the reporting. Allowing software to automate workflows empowers many roles to be more efficient with both their time and function. In turn, the business will see increased profitability and reduction of shrink.
Technology also allows agribusinesses to be more customer-centric. For example, using agtech can significantly improve the life of a grower and ultimately improve their returns. A grower wants to see as many loads as possible leave his farm in a single day. By hauling to elevators that leverage technology in the way of facility automation, the grower will see his/her trucks turnaround faster, therefore allowing them to move the maximum amount of grain as possible. When you bring in technology that allows growers to execute contracts and see settlements all from a mobile device without having to scan, fax or mail a thing, a grower can literally run their farm from the farm.
Why agtech?
When considering the direction, health and the customers of an organization in this day and age, using agtech is not a want, but a need. Making an investment in technology or to improve the technology for an agribusiness can be difficult at the onset, but with the right partners, the long-term benefits are significant. It's an investment that will help your people execute their functions better, improve the way your organization does business and significantly improve your customers' experience at every point of contact with you. ■
David Figueroa is sales manager at Greenstone Systems, a Cultura Technologies company. Figueroa engages with executives of some of the largest grain cooperatives and processors in North America, listening to and understanding their challenges, innovation requirements and people needs.