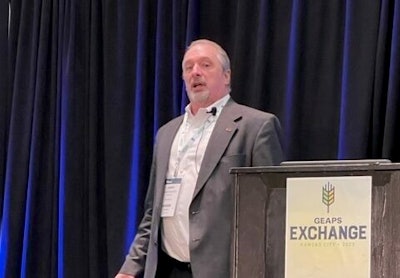 Most grain facilities have a scheduled maintenance strategy that helps keep the system up and running.
While this is a good baseline, it's not necessarily the most cost-effective strategy and doesn't catch everything , said Jim Neawedde, segment lead, Food & Beverage at ABB.
What if you could detect an issue, such as overheating or determine the health of individual components, such as IGBTs, filters, or capacitors, before they cause downtime?
Here's how you prepare for success by moving from preventive maintenance to predictive maintenance. This means you can evaluate what's happening in real-time to address issues before your system goes down, taking your facilities' productivity with it.
4 types of maintenance grain facilities follow
During his educational session at GEAPS Exchange 2023 in Kansas City on Monday, February 27, Neawedde said there are four types of maintenance plans:
Corrective
Condition based
Preventive
Predictive
Neawedde noted most grain facilities follow the first three, but the best method of maintenance plan to follow is predictive.
"What if you could detect issues before they cause downtime?" asked Neawedde.
Predictive maintenance combines various sensor readings (condition monitoring), sometimes external data, to perform power analytics on thousands of data points. It's a great way to improve efficiencies, improve productivity and lower your costs, he said.
IIoT benefits for your grain operation
The Industrial Internet of Things (IIoT) solution use a platform to integrate a set of enabling technologies that lets you build these solutions more quickly and efficiently.
Helps minimize and manage risk
Eliminates inefficiencies and reduces energy costs
Optimizes investments by reducing spare parts you need by scheduling maintenance better
Increases user experience – flexible configurable functionality, easily scalable to fleets
Solidifies marketing position – give you a competitive advantage.
"If you're not doing this, you can bet your competitor is," said Neawedde.
Benefits of predictive maintenance
The IIoT digital powertrain consists of a suite of digital tech to improve performance, reliability and efficiency, said Neawedde.
Smart sensors can be used for several types of assets including drives, motors, bearings and pumps to gather data and pushes it to the cloud. Benefits include:
One portal to monitor
See the health of your equipment in real time
Daily impact evaluation to see what's impacting your equipment's lifespan
Condition-based maintenance helps see the expected lifespan of you equipment based on component health
Predictive maintenance projects trending data based on actual environmental and usage impact which will project the expected lifespan of your equipment
System evaluation allows you to see the condition status and historical data of your equipment
Sensors last about three to five years before batteries need to be changed, depending on how much data is collected.
"Now you can know when the equipment needs to be repaired and the expected lifespan of equipment, all in one place," said Neawedde.
Maintenance information all in one place
Because all the information is on a web portal and available through an app, you can view assets anywhere. You can also compare facilities and better predict budgets in advance.
"Using a predictive maintenance plan, you can have time to react and create a solid plan for your equipment maintenance," said Neawedde.
"Look at lots of different what-if scenarios," he said. "See what the ROIs are and make changes that make sense and yield the best benefit."
Analytics allow us to dig into our systems and understand what's going on inside the equipment, he said.
Neawedde doesn't think there will be a time when every piece of equipment will be tagged with sensors, but it makes sense to place sensors on your key systems to monitor them.