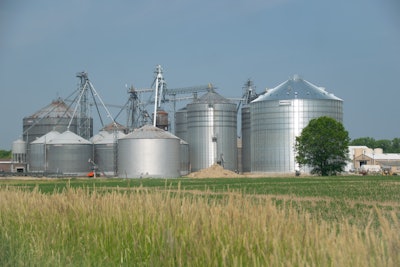 Transcript
Join Steven Kilger, managing editor of Feed & Grain and host of the Feed & Grain Podcast, as he delves into an insightful conversation with Steve Ramseyer, grain superintendent at Deerfield Ag Services.
Gain valuable insights into the upgrades, challenges and ever-changing dynamics of the grain industry. Explore the rich history of Deerfield Ag and their remarkable journey from humble beginnings to a thriving business with multiple locations. Don't miss this engaging podcast episode filled with firsthand experiences and expert perspectives on the grain industry.
Transcript
Steven Kilger: Hello, everyone. Welcome to the Feed & Grain Podcast, and thank you for listening. My name is Steven Kilger. I'm the managing editor of Feed & Grain, and I'll be your host today.
We have a great show for you today. This episode is a little bit different than normal. We'll be listening to an interview I had with Steve Ramseyer, grain superintendent at Deerfield Ag Services. Steve was kind enough to host me while I toured Deerfield Ag Service's Deerfield, Ohio, location for a feature that will appear in our upcoming August/September issue. We talked about those upgrades, the unpredictability of working in grain, and the grain industry overall.
The interview was performed at a grain elevator, so it might be a little noisy at times, due to all the truck traffic. I thought it was a really good conversation, most of which didn't end up in the article itself. And I really wanted to give everyone a chance to listen to it.
As always, if you're listening to this in a podcast app, it would really help us out if you would leave us a rating or subscribe. If you're listening to this in the browser, make sure you subscribe to Industry Watch so you can get all the latest episodes as soon as they come out.
Now onto our conversation.
Steve, why don't you start by telling us who you are, how long you've been in the industry, how long you've been with Deerfield ag, that kind of thing?
Steve Ramseyer: I grew up pig industry. I went to ATI, the Agricultural Technical Institute of Ohio State, in Wooster, Ohio. I worked in the swine industry until 2002. When I started at Deerfield, I was married and had two kids. I started out as the manager of this location here at Deerfield. At that point, we were Deerfield Louisville. It was very small, and we had just taken in Kinsmen, Ohio, as a leased facility.
We had those three facilities at that point, then we started growing. In 2004, we bought a facility in Pennsylvania, a very small 135,000 bushels of space, 1,500 bushel/hour legs, very small. In 2008, we built about a 700,000-bushel storage facility over there. Then the next year, we built agronomy over there. That grew to over 1 to 1.2 million bushels in space. Agronomy kept growing, and we ended up selling that to Centerra about five years ago.
About the same time, in 2017, we built our Massillon, Ohio, facility from the ground up -- a totally automated facility with a railroad out. State-of-the-art -- all the bells and whistles at that facility. It's 25,000 bushels/hour dumping and loading with one leg. This is basically a bean facility in the fall, then in the winter, we start taking corn and hemp.
I've been here for 21 years now. And obviously, if you like to work in the grain industry, you've got to like a little bit of crazy. You've got to like challenges because no two years are the same. There's always another challenge. You think you're going to take care of every challenge and have it all taken care of somehow, and God comes up with something to throw at you and changes who we are as an independent business.
We can flex. A lot of times co-ops, they can't flex. The owner just told us the other day ... we're here to do what the customer doesn't want to do. That's our job. Whatever they don't want to do, we have to do it, and we have to do it well and do it profitably. That's the name of the game.
Kilger: Tell me about Deerfield Ag, about the history of the company.
Ramseyer: In 1959, Boyd and June Wallbrown incorporated the business. She was a schoolteacher. He farmed some. In Deerfield, Ohio, everybody thought he was crazy. He wanted to do no-till. We are solid clay around here. It's yucky ground. Really yucky, but he did it. He was one of the first ones to put up a bin. Everybody was picking their corn at that point, so he put up a bin so he could shell it with a combine.
It started here with 95 acres. It's what is on the home site right now. Then in 1991, he was in an accident and died. At that point, the two boys and the two girls ran the company and have grown into what they do now, with four locations. We were an equipment business, and we sold equipment to Ukraine.
We had a contact that they got a hold of, and he wanted to start a business in Ukraine, and we were feeding him. I mean, we would tear down old dryers here and put them in a container ship and send them over. That's where we got started with containers.
But in 2006, we actually started loading containers, and that's when we started using containers for crops. At that point, he's like, build something. We're not sure it's gonna work. Just don't spend much money on it. So I started with an 8-inch auger. It took me half an hour to fill the container. Now, my fastest one is in Massillon. It's a double barrel, 14-inch auger. We can fill a container in three minutes with 956 bushels.
Kilger: That's quite an upgrade.
Ramseyer: Yes. It's worked. We've basically changed the bean business around here because of containers. We've brought a lot of extra money back to the farmers and the community because we do containers.
Kilger: You were saying it's a lot more reliable than waiting for trains.
Ramseyer: Before we were shipping beans to East Liverpool, Ohio, to the river, or to Bunge out of Bellevue, Ohio. That was basically our bean market. They didn't want beans when the farmers were harvesting. We had to keep piling and piling up somewhere until they would take them, usually, mid November, when the Western bean harvest kind of slowed down. Then they would start buying from us as an elevator or raise the price so that we could sell it at that point. Now, as soon as we have 50,000 bushels of beans here, we start shipping. That sped it up.
Kilger: It sounds like you guys expanded over the last 20 years or so.
Steve Ramseyer: Since I've been here in the last 20 years, we've probably added 2 million bushels of space at least.
Kilger: The local producer, they can handle it too, right? They're filling it up, so that's great.
Ramseyer: the farming gets better. Farmers get better. The product, hybrids get better, the combines get faster, and tractors get bigger. It just comes fast.
Kilger: Walk me through what this project is. What have you guys decided to build? And why have you decided to upgrade here?
Ramseyer: Bill and John Wallbrown are two of the owners, and they have a farm. They farm outside of the business, and they farm about 4,000 acres. We're a farm ourselves. We know we don't want to wait. Wait time is money for all farmers. Two years ago, when we had the bumper yield, we started looking at what we're going to do to speed things up. We had an hour to an hour-and-a-half waits. Nobody likes that. Everybody in the area had that, so it wasn't just us. You couldn't go to another facility and get dumped any faster, but that's not a good status quo. We started talking about it two years ago, and last year, there was a better-than-average yield, so it wasn't like the year before. Still, we're always steady through there. It's like, okay, it's time to do it.
The other determining factor in doing this was our wheat pit. Last year, we got into being a storage facility for Plenish soybeans. We have to keep them segregated. All our Plenish beans go out through the wheat pit. Nobody wants to dump at 3,000 bushels/hour in the middle of the soybean harvest. That was another determining factor -- we've got to upgrade that area. At that point, do we just buy two legs and upgrade everything? We figured the cheapest way to do it was to move our 7,000 bushel/hour pit from the corn section over to rebuild the wheat section, and then build a bigger speed for our corn section. About last October, we were looking at capital investments and said we needed to do this.
Kilger: Three years ago was in the middle of COVID-19. That wasn't a really good time to start any project.
Ramseyer: At that point, bin and grain handling equipment was double the price because nobody had anybody to work and there was so much demand. They just raised the prices, and everything steel went through the roof. It's not coming back down to where it was. I priced the same-size bins at Massillon in 2017, and it was about 150% more than in 2017.
Kilger: Wow. Five years makes a big difference. So you guys decided to build the bin here just for the room, right? Because you want to use the Massillon area as a kind of throughput.
Ramseyer: Massillon is built as a terminal. This is kind of a terminal market, too, because we're, selling to end users. Our Kinsman, Ohio, and Louisville, Ohio, facilities, are your typical country elevator. You fill them up once, and you're done, then you ship it out. We want to turn space here, and we want to turn the space multiple times. That's massive to try to make our money back on.
Kilger: Well, you guys take in all three major crops.
Ramseyer: Corn, soybeans and wheat. We are also a storage facility for some malting barley company out of Westerville. We've been a storage facility for the last three years for them. It's good.
This year, we had 90,000 bushels of malting barley beer from the Ohio-Michigan area. That's good. I know we did a lot of barley. They're trying to get something built, an actual malting house right now.
Farmers pick it, and they have to put it in a bin and dry it. It comes to us in September, and it has to sit until March or April before they can do anything with it. Then it goes through that steeping process in the bins, and then we start shipping out. It's going to Delaware to be molten, then it comes back to Westerville, Ohio, to be made into beer. They're basically renting molting space for people until they figure out how to build theirs.
Kilger: It's quite the trip.
Ramseyer: Quite expensive. They have quite a few contracts with a lot of craft beer, stuff for the malt.
Kilger: That's very cool. How's construction gone so far? Has it been smooth? Obviously, you want it done in a week and a half.
Steve Ramseyer: It's gone fairly smoothly. Not too many major hiccups. The major hiccup is we're on a time crunch. Most things we haven't had a problem getting. We're waiting on one big electrical box that was supposed to be in a warehouse three weeks ago. They said it got shipped, but we don't have it now. We have to find it because I need it next week. A lot of the electrical stuff we got ordered in time. For the most part, it's just time.
Kilger: They never go quite to plan. I've never talked to anyone, and he's like yeah, start to finish, construction went exactly how we wanted it to go.
Steve Ramseyer: At Deerfield ag service, we actually took all the equipment down. Then, before K&S came in, I wrecked out all the electrical. They're trying to piece things back together at this point, but I think they'll get it.
Kilger: It helps you guys used to be equipment sellers.
Ramseyer: Over the years, we've done a lot of our own repair work. We've done a lot of our own crane work, even at our own facilities. With the grain crew, not the equip crew. We knew what we were doing. We can do a lot of planning because we've developed everything else. We've designed ourselves pretty much. We had DNS and Tam come in and help us design what we're doing here to make sure it works and can be done. They brought in some other ideas also, so that worked out well.
Kilger: How about your customers? Are they excited about that expansion?
Ramseyer: They keep saying, "Is it going to be ready for a wheat?" And I keep saying, it will be ready for wheat. For the most part, we will be ready to start dumping. Bins may not be running, and unloading equipment might not be wired up, but I don't need that right away. I need to be able to dump it and get it in and out of a bin right now.
Kilger: Hopefully, it all goes smoothly. In your 20 years here, what's been the biggest change that you've noticed? What's really different today than when you started?
Ramseyer: Automation. It goes back to wages, and people, can't afford them or find them.
Kilger: Automation will save our industry.
Ramseyer: Last year, we had our biggest day at Massillon at 55,000 bushels in one day. One person weighed, graded, dumped and all that. Up here, to dump 50,000 bushels, it'd be a big day. I think we've done 35 to 40 here before, but we have one person in the office grading and weighing. We have probably two people outside dumping trucks and making sure it's going to the right bin. Then if we're loading out that it takes two or three more people. At least three people at this facility dumped the same amount of grain as they can dump with one.
Kilger: That's the advantage of having a relatively new facility versus this one, which you said was built in the 50s then been added on.
Ramseyer: Both the distributors we put up here are electronic, so we're making things more automated. Eventually, I'll probably tie in some PLC automation somehow into these facilities.
Kilger: You do what you can, right? They weren't built for it, so there's only so much you can do.
Ramseyer: I remember one time somebody asked me, "Well, what will it take to automate this facility?" I told him a million dollars, at least, because I'd have to redo everything. Part of the redo is the electrical we're doing -- having and getting things more consolidated in one area, which we're switching a lot of stuff from 240 to 480. Through this upgrade, we're waiting to see if we get a grant from the government for a solar field. We'll hear about that in July or August.
Kilger: Thank you again for showing me around.
Ramseyer: No problem.