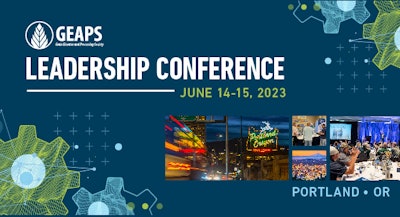 The Grain Elevator and Processing Society (GEAPS) announces its roster of industry and leadership experts who will present at GEAPS Leadership Conference next month.
Scheduled for June 14-15 at the Holiday Inn Portland-Columbia Riverfront in Portland, Oregon, the two-day conference will provide attendees with leadership skills they will be able to directly apply at work regardless of job title.
The first day, June 14, the GEAPS Leadership Conference offers:
"In years past we've brought in one, maybe two speakers for the Leadership Conference, but this year the team put together a collective theme, on building leadership excellence, and are bringing in an impressive line up of speakers," said Betsy Polis, GEAPS' senior project manager.
"Three headliner speakers will dive deep on relevant topics that we chose based on educational survey feedback and pressing needs in the industry, including managing frontline leaders, handling conflict and leading during times of change," added Polis.
"On top of three great headliner speakers, we are also excited to bring a Leadership Panel together. We are certain that these three individuals together on stage will help you learn skills and techniques to inspire and impact you and your team."
Registration for this conference is $295. GEAPS members save and may attend for $195.
This is GEAPS first in-person leadership conference since 2019. Click here to register for the conference and arrange discounted lodging through GEAPS.
New this year, GEAPS Leadership Conference will also include an opportunity to meet with industry vendors in the supplier showcase.