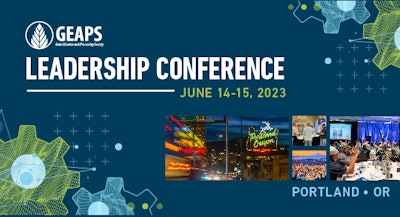 Courtesy of GEAPS
The Grain Elevator and Processing Society (GEAPS) Leadership Conference will be June 14-15 in Portland, Oregon.
The conference will provide an opportunity to gain skills and knowledge that directly relate to being a leader on the job.
Attendees will hear from expert presenters on important industry topics and have networking opportunities during the two-day event at the Holiday Inn Portland-Columbia Riverfront.
This is the first in-person leadership conference for GEAPS since 2019.
Focus: Building Leadership Excellence
On the Front Lines of Leadership
Proactively Managing Conflict
Leading Through Change
New this year, the GEAPS Leadership Conference also will include a supplier showcase to enable vendors to connect with customers and attendees in a more intimate tradeshow setting.
"After a couple of years of virtual events, I'm excited for this year's leadership conference in the Pacific Northwest," said Bob Klare of EDG, Inc., and a member of the GEAPS board of directors.
"The ability to connect with GEAPS and industry leaders face to face is a highlight of the event for me, and as a board member, I am looking forward to thanking our industry suppliers for supporting the event by exhibiting at our table-top trade show."
Registration is $195 for GEAPS members and $295 for nonmembers. For more information or to register, click here.