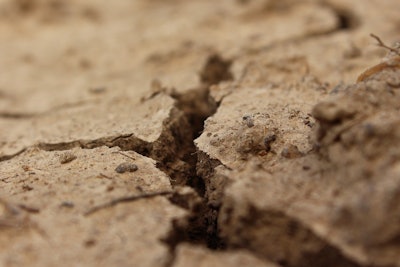 Brazil Dryness Causes Soy Ratings to Slide; Still Too Early for Corn
Soybeans in No. 2 soybean- and corn-producing state Paraná in Brazil's south have recently taken a notable turn for the worse. As of Monday, some 58% of the crop was in good condition compared with 80% on Dec. 17. During the current week in the past three years, at least 87% of the state's soybeans were rated in good condition.
Below-normal rainfall has also been prominent recently in top grower Mato Grosso in Brazil's Center-West. The key northern production region of the state has received only 80% of normal precipitation over the last 60 days. But much of that dryness occurred in the last four weeks or so, potentially after the critical pod-filling period.
Mato Grosso farmers planted the soybean crop at a record-fast pace, completing most of it by early November. It is also noteworthy that soil moisture was at a five-year high for the time of year. State agency IMEA is likely to publish its first soybean harvest report of the season on Friday, January 11, 2019. Precipitation deficits in the top-producing states have led to some production estimates. FC Stone reduced production to 116 MMT while a Reuters survey is at 120 MMT. This is compared to the government estimates: USDA at 122 MMT and CONAB at 120 MMT.
USDA Will Delay Release of January WASDE Report
Chinese and U.S. teams ended trade talks in Beijing on Wednesday that lasted longer than expected and officials said details will be released soon, raising hopes an all-out trade war that could badly disrupt the global economy can be avoided. The talks were extended into an unscheduled third day, showing both sides were "serious", China's foreign ministry said. If no deal is reached by March 2, Trump has said he will proceed with raising tariffs to 25% from 10% on $200 billion worth of Chinese imports, at a time when China's economy is slowing significantly. Beijing has retaliated in turn to U.S. tariffs.
USDA Committed to E-15 by Summer
The U.S. Environmental Protection Agency said on Tuesday it would complete a rule to boost sales of higher-ethanol blends of gasoline by the summer driving season, despite a partial government shutdown. The Trump administration hoped to have the rule published by February and approved by June, but the EPA recently told lawmakers that the timeline would be delayed because of the partial government shutdown. The EPA currently bans the higher ethanol blend, called E15, during summer because of concerns it contributes to smog on hot days - a worry biofuels advocates say is unfounded. E15 gasoline contains 15% ethanol, versus the 10% found in most U.S. gasoline. The proposal is expected to be coupled with a slew of reforms to the credit-trading market that underpins the nation's renewable fuel policy.
The risk of trading futures, hedging, and speculating can be substantial. FBN BR LLC (NFA ID: 0508695)