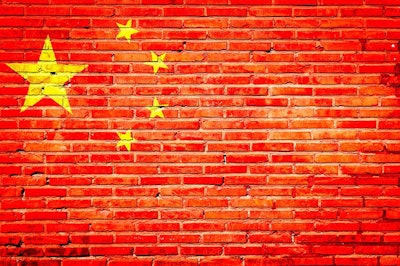 China "Reneged" On Negotiated Items Enraging Trump
China backtracked on substantial commitments it made during trade talks with the United States, prompting President Trump to impose additional tariffs on Chinese goods slated to go into effect on Friday.
Trump tweeted on Sunday that he would raise tariffs on $200 billion worth of Chinese goods to 25% from 10% by the end of the week, and would "soon" target the remaining Chinese imports with tariffs.
The latest dispute came after the Chinese sought to deal with policy changes through administrative and regulatory actions, not through changes to Chinese law as previously agreed.
The United States is demanding changes to China's policies that would offer better protection for U.S. companies. These items include: better protection of U.S. intellectual property, and an end to forced technology transfers from U.S. companies and cyber theft of American trade secrets.
Washington also wants more access to China's markets for U.S. businesses, curbs on industrial subsidies and increased purchases of American products.
Despite the setback, Chinese Vice Premier Liu He is still expected to be in Washington on Thursday and Friday for further talks.
What It Means for the U.S. Farmer: At FBN, we continue to believe that China's non-science based import ban on selected U.S. agricultural products has been harmful to the American farmer. At FBN we're also looking for details as they pertain to agriculture. We've been interested to see details about negotiated commodities, volumes and timing.
May 2019 WASDE Estimate: Winter Wheat Production +105 MBU YoY
USDA May WASDE to be released Friday, May 10 at 11:00 CST. The May WASDE will present the USDA's first balance sheets for the 2019/20 crop year.
Reuters released their poll estimates on Tuesday, May 7.
HRW Production: 767 MBU, +105 MBU
SRW Production: 277 MBU, -9 MBU YoY
All wheat production: 1.909 BBU, +25 MBU YoY
Corn ending stocks: 18/19 2.055 BBU +20 MBU from April. 19/20: 2.1 BBU
Soybean ending stocks: 18/19 920 BBU +25 MBU from April. 19/20: 910 BBU
Wheat ending stocks: 18/19 1.097 BBU +10 MBU from April. 19/20:1.06 BBU
What It Means for the U.S. Farmer: At FBN we're anxiously awaiting the May WASDE. In particular, we're interested to see the government's initial demand thoughts for the 2019/20 corn and soybeans. Exports will be a particular focus. We're also particularly keen to see the USDA's thoughts on Ukraine's corn crop, Russia's wheat crop and China's oilseed imports.
The risk of trading futures, hedging, and speculating can be substantial. FBN BR LLC (NFA ID: 0508695)