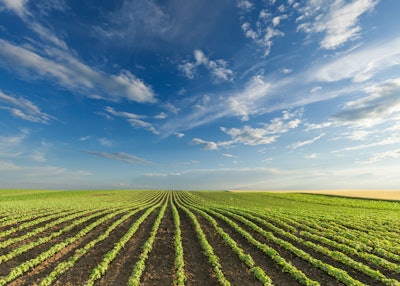 Radisa Zivkovic | iStock.com
This latest era of high corn and soybean prices may be nearing an end, thanks to surging global production, according to Jason Grant, director of the Center for Agricultural Trade at Virginia Tech.
Prices for both commodities were already falling in the days ahead of this past week's World Agricultural Supply and Demand Estimates (WASDE) by the U.S. Department of Agriculture (USDA), Grant said. Soybean futures had fallen 12% since the start of 2023, and corn prices were down 15% from a high market in January – both figures that mark some of the steepest price declines in the past two decades, Grant said.
Prices fell further immediately after the Friday reports cut the USDA's soybean export projections, Grant told the U.S. Soybean Export Council during a podcast after the reports' release on May 12. According to the USDA, U.S. soybean exports are expected to fall some 40% this year compared with last, "leaving the U.S. share of global trade slightly above the prior five-year average," the report says.
Even so, demand for soybeans and other agriculture commodities remains strong, Grant said. The USDA continues to project record corn and soybean use worldwide, but production – for the first time in several years – is growing faster than demand.
"When you add it up, at the end of the day it looks like the tendency is to move from where we were really tight on supplies, particularly in wheat, to a situation where we have a little more buffer, a little more cushion if you will," Grant said.
Growing production in Brazil and Argentina, both recovering from several years of drought, is a leading factor in alleviating global shortages, Grant said. But the world has also seen production in Ukraine recover from the Russian invasion far faster than expected thanks primarily to the Black Sea Initiative and the EU's "solidarity lanes" for overland shipping.
Weather could further increase supplies this summer, thanks to an El Nino that could, by historic standards, increase this year's harvest by 2-5%, Grant said. And the introduction of some new competition in the biofuels market – the EPA recently approved the use of canola oil to make biodiesel – has put further pressure on soybean prices, Grant said.
While decreasing prices could pinch profit margins for farmers who have already locked in goods like fertilizer at a high cost, Grant said he believes lower prices will, overall, be a boon to agricultural producers. Demand for protein is still expected to grow in China and elsewhere, he said, and lower prices should encourage further growth in consumption.
But the U.S. may get the short end of the stick for the time being, he said. Fears of recession have prompted international investors to move more money into the U.S. dollar, which they view as a safe haven during times of economic uncertainty, Grant said. This increases the value of the dollar relative to other currencies, which has the effect of making U.S. agricultural goods more expensive than those grown elsewhere.