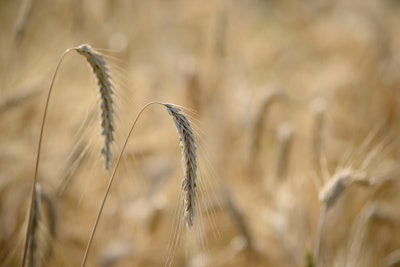 Maria Pop | PEXELS.com
A deep drought has impacted Kansas for the last two years, damaging wheat crops, frustrating farmers and pressuring grain co-ops and merchandisers.
For decades, Kansas led the U.S. in wheat production, and the U.S. led the world in wheat exports. But now the state may see its smallest wheat crop in 60 years.
Last year, Kansas produced 244 million bushels of hard red winter wheat. Estimates from May's 2023 Wheat Quality Council's Hard Winter Wheat Tour put production at 178 million bushels, down significantly.
During the recent wheat tour, scouts found stunted wheat crops turning a blueish hue. The U.S. government is predicting farmers across the nation will likely abandon their wheat crops at the highest rates since 1917. Tour participants thought abandonment might be quite a bit higher than normal in Kansas at nearly 27%.
Worth more dead than alive
The crop is so poor in Kansas and neighboring Oklahoma, some farmers are dousing their crops with herbicide to contain their losses and collect insurance, reported KMUW.
Producers report surviving plants are less than half as tall as they should be this year and have produced very little grain, saying the plants are worth more dead than alive.
One Kansas farmer said he'll probably kill his entire 1,500-acre wheat crop with herbicide to allow him to collect crop insurance and save the plants from drawing more water from the parched soil.
While producers have the safety net of insurance, grain cooperatives and merchandisers do not. Decisions surrounding staffing and lay-offs will be on the table in these down times, proving its more than the farmer who suffers.
U.S. may turn to Europe for its wheat
According to reports, the drought will likely cause Kansas flour mills to buy wheat grown in eastern Europe.
In May, Bloomberg reported two cargoes of Polish grain arrived in Florida, with more expected over the coming months. According to the report, Andersons Inc. supplied the wheat to Ardent Mills's flour factory in Tampa.
While the trade route may seem unusual, U.S. drought-inflicted production shortfalls and supply chain issues have caused U.S. wheat prices to rise while Eastern European nations have surpluses, which have even created restrictions on imports of the grain from Ukraine.
Trade data from the European Union shows Poland has shipped about 79,000 tons of wheat to the U.S. so far in the 2022-23 season.
USW: U.S. produces enough wheat for domestic demand and exports
U.S. Wheat Associates (USW) said in its recent blog the news that U.S. flour milling companies have imported European wheat raises "concerns and frustrations for U.S. wheat stakeholders."
"To an organization like USW ... that promotes exports on behalf of U.S. wheat farmers, such news is particularly disappointing," the association wrote. "After all, U.S. farmers produce enough wheat each year to meet domestic demand and still offer about half the crop to export markets."
Dynamic market factors have created a large price spread between similar classes of European and U.S. wheat. For example, in May 2023, according to AgriCensus data, the published FOB export price for Polish wheat was more than $107/metric ton less than the U.S. hard red winter Gulf FOB export price.
In looking at this difference between the lower purchase price in Europe versus the current U.S. domestic market replacement values, USW President Vince Peterson said "this may be the biggest trade margin that I've ever heard of" in all his years in the grain trade.
USW said the imported European wheat will likely move to coastal U.S. flour mills – in part because of the high rail rates milling companies would have to pay to transport it to interior mills.