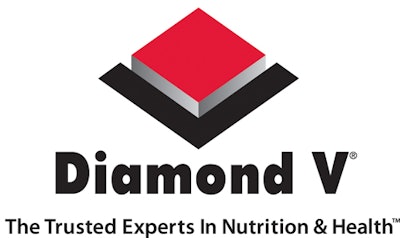 Diamond V continues to grow its capability in supply chain and product quality management with two seasoned professionals in key positions based in Cedar Rapids, IA.
Doug Paulson is coming aboard as Business Food Safety, Quality, and Regulatory (FSQR) Manager and Matt Scherbring now is Environmental Health and Safety (EHS) Manager.
Doug Paulson
As FSQR Manager, Paulson will oversee the quality, food safety, and third-party certification departments for both Diamond V as well as the company's Embria Health Sciences subsidiary, which is based in Ankeny, IA.
Paulson graduated from the University of Wisconsin – La Crosse with a BS in biology. He began his career with Cargill in 1996 at the company's corn wet milling facility in Memphis, TN. Through his 22 years at Cargill, he's held a variety of technical, operations, and FSQR roles with the company. Most recently, he was FSQR manager for the company's Cedar Rapids location, with responsibilities for corn milling and soy protein processing plants.
"Doug's vast experience with quality and manufacturing of food products makes him a valuable addition to our compliance team," says Lori Flugum, Business Operations and Supply Chain Director for Diamond V. "And his passion for people development, building high-performing teams, and serving customers makes him a great fit for our culture."
Matt Scherbring
In the EHS Manager role, Scherbring will oversee environmental compliance and safety-focused initiatives for both Diamond V and Embria Health Sciences.
He graduated from Wartburg College with a BA in Chemistry. Since graduating, he has held a variety of roles focused on safety and environmental regulatory compliance, including positions with Georgia Pacific in Dubuque, IA, and Cargill Corn Milling in Cedar Rapids.
"I'm happy to announce that Matt has joined our team," Flugum adds. "His wide range of experience will compliment and strengthen Diamond V and Embria's safety and compliance efforts."