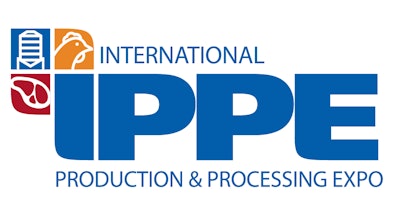 Rendering is not a new process, as animal proteins and fats have been rendered for centuries. However, new innovations are shaping the future of the rendering industry. These innovations and other topics will be discussed at the International Rendering Symposium: Innovation in Rendering program, held Feb. 14-15, 2019, in conjunction with the International Production & Processing Expo (IPPE) in Atlanta, GA.
Sponsored by the National Renderers Association and U.S. Poultry & Egg Association (USPOULTRY), the symposium will cover a variety of topics, with sessions covering Today's Political Climate and How It Affects Rendering; The Basics of the Rendering Industry and Processes; Being a Voice to Consumers; Overview of Research Being Performed by the Animal Co-Products Research and Education Center; R&D Efforts by the Rendering and Pet Food Industries and Scientists, including the New Pet Food Alliance; Rendered Products for Poultry Nutrition; Equipment Used in Modern Rendering; Federal Regulation of Feed, Pet Food and Ingredients; The Food Safety Modernization Act's Impact on Rendering; Sustainability, Rendering & Pet Food; and the Examination of International Markets, Trade Agreements and Trends for the Rendering Industry.
The International Rendering Symposium: Innovation in Rendering program is scheduled from 12 to 5 p.m., Thursday, Feb. 14, and from 9 a.m. to 12 p.m., Friday, Feb. 15. The registration cost for the symposium is $200.
The 2019 IPPE will be held Feb. 12-14 and is a collaboration of three trade shows – the International Feed Expo, International Poultry Expo and International Meat Expo – representing the entire chain of protein production and processing. The event is sponsored by USPOULTRY, the American Feed Industry Association and the North American Meat Institute. For more information and to register to attend IPPE, visit ippexpo.org.