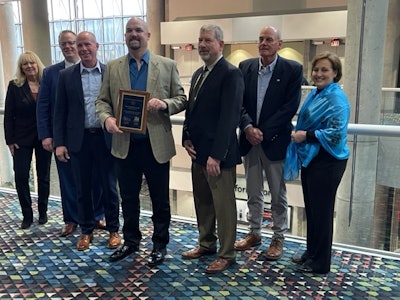 The American Feed Industry Association (AFIA) named Kent Nutrition Group in Marshall, Missouri, as the 2022 Commercial Dry Feed Facility of the Year.
Gary Huddleston, AFIA's director of feed manufacturing and regulatory affairs, presented Chris Igo, plant manager, with the award Wednesday during the AFIA's Feed Education Program, which was held in Atlanta in conjunction with the 2023 International Production & Processing Expo.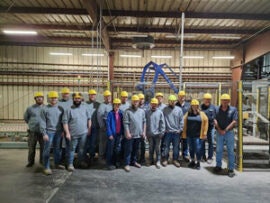 Kent Nutrition's Marshall facility prides themselves on excellent customer service, high-quality feed and dedication, and those traits shine through, said Huddleston.
"Back when I was a plant manager, there was a plaque on my wall that simply said, 'Do the right thing,'" said Huddleston. "That's what I want my employees to always understand: Do the right thing every day. We like to honor the facilities that do the right thing every day and that is surely Kent Nutrition."

Originally built in 1976, the Marshall team is comprised of 14 members. In their efforts toward continuous improvement, the facility recently installed a new Repete pellet mill automation system in 2020.
The system has allowed the plant to streamline its mixing process and put in place safeguards to reduce opportunities for human error, such as proceeding with a manufacturing run if the sequencing and flushing procedures are not properly followed.

Igo said it was an honor and only made possible through a great group of employees at the Marshall plant.
The semi-finalists for AFIA's 2022 Commercial Feed Facility of the Year award are Kent Nutrition Group of Mason, Michigan (last year's winner), Belstra Milling of DeMotte, Indiana, and Western Milling of Goshen, California.

The AFIA has been recognizing excellent feed manufacturing facilities through the Feed Facility of the Year program since 1985, with 2021 marking the first year that the association began issuing top industry awards to facilities in four categories: commercial dry, liquid feed, premix and ingredient, and integrator. Learn more at afia.org/FFY.