The American Feed Industry Association's (AFIA) Equipment Manufacturer's Committee raised $2,400 for its scholarship fund at a hospitality reception on Jan. 23 in Atlanta, hosted by Feed & Grain and WATT Global Media.
Doubling the proceeds of 2022's reception -- held annually the night before International Production & Processing Expo (IPPE) begins --the money was raised through a raffle prize drawing. Julio Contreras, vice president of sales, Sweet Mfg. Co, won an iPad Air, furnished by Maxi-Lift Inc.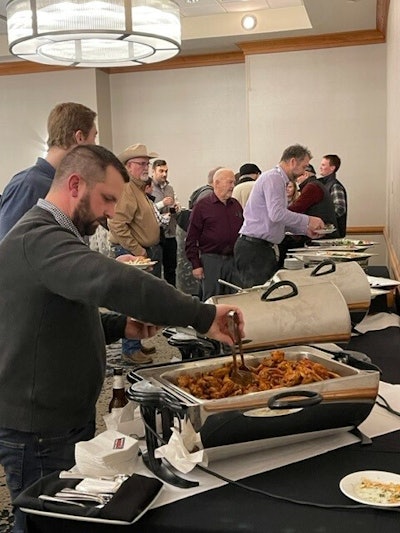 "The AFIA Equipment Manufacturers Committee Scholarship represents a commitment to helping educate the next generation of feed industry professionals," says Mike Schuster, vice president of Laidig Systems, Inc., and past AFIA board chair.
"Through the support of many valued partners, our fund has seen tremendous growth and provides annually to students at seven different universities. The committee appreciates the long-term support of Feed & Grain and for allowing us to conduct this raffle at their reception."
The annual hospitality event kicks off IPPE week the evening before the Expo opens on Tuesday, January 23. Taking place in Atlanta Jan. 24 – 27, IPPE is the largest international trade show for the feed, poultry and meat processing industries.