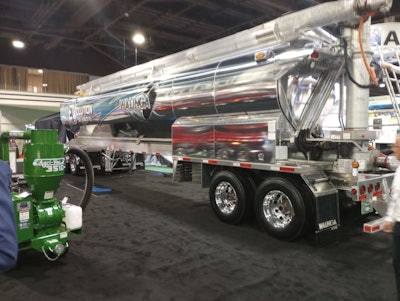 Walinga unveiled the EVolution trailer, a first-of-its kind electric feed trailer, on January 24 at the International Production & Processing Expo (IPPE) in Atlanta.
With the new EVolution trailer, feed handlers no longer have to rely on trailers with hydraulic systems, which can present problems.
Customer input into design

Just prior to removing a giant tarp carrying the Walinga logo from the trailer, Walinga President Terry Medemblik explained the thought process that went into developing the EVolution trailer.
"The electric feed trailer basically comes from listening to our customers and what they were looking for," he said. "One of the innovative legs of Walinga is looking for better ways to provide something greater for the feed industry."
The biggest concerns shared by customers have been those of environmental impacts, controllability, and efficiency. Walinga believes the electric trailer addresses those concerns.
With the EVolution trailer operated 100% by electricity, the need for hydraulics is eliminated, Walinga CEO Butch Medemblik explained. Therefore, worries about hydraulic oil spills are no more.
"With hydraulic drives, we tend to lose some of the efficiency of hydraulic oil as temperatures go up and as the unit wears," Butch said. "With the electrical system, you have the advantage that you maintain speed and power throughout the whole life of the unit. The other advantage is you use less power. With less power that's energy consumed."
Other features of the trailer
Trailer-mounted lithium ion batteries drive electric motors producing immediate torque with infinitely adjustable speed.
Powerful electric drive motors drive each auger, and high torque makes light work of transfers while speed controllers permit fine tuning of transfer speeds, minimizing grain damage.
Each section of railing is individually controlled, raised or lowered by an electric drive, offering mechanical actions that are quick.
Automated motions are automatically halted if the movement is obstructed.
The Medembliks said the company initially started talking about plans to develop an electric feed trailer, with those discussions getting really serious just prior to the 2022 IPPE, with hopes of introducing the trailer to the market exactly when they did.
"We said if we're going to do it, let's have it at IPPE 2023," said Terry.