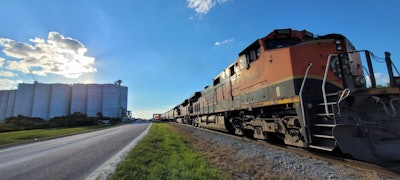 While not in a major wheat producing state, the Florida location was strategically chosen by Ardent Mills for its access to the supply chain rather than access to the farm. With the ability to receive grain by ocean vessel, BNSF rail line and truck, the 10-acre site brings opportunity for growth and the ability to optimize Ardent Mills' supply chain agility.

The facility encompasses two milling units, a grain storage elevator, a cleaning house, an office, and multiple packaging, warehouse, and storage locations. The layout of the mill was optimized for performance and efficiency, with easy access to equipment for maintenance and additional space to build a third milling unit in the future.
Years in the making, construction on Port Redwing began in October 2019 and it sent off its first flour shipments in January 2022. While challenges from COVID-19 set back the initial timeline, demand for flour soared throughout the pandemic and construction — further supporting the need for Ardent Mills' $100M-plus investment.
"Everybody needs flour — it's a staple of our diet to make breads, tortillas, baked goods — you name it," says Steve Neely, plant manager, Ardent Mills Port Redwing.
With an eye toward meeting the growing demand for baking, Port Redwing produces all-purpose, whole-wheat, high-gluten, cake and bread flour using the most modern and efficient facility automation and wheat processing solutions in the U.S.
Flour mill layout: Traffic flow is key
Ardent Mills has a long history in the Tampa Bay area with grain facilities dating back to the early 1930s, but flour milling has progressed leaps and bounds since then. To maximize efficiency for a modern-day flour mill, Ardent Mills optimized Port Redwing's layout for three different modes of transportation — ocean, rail and truck. To accommodate all the moving pieces, traffic flow is key.
"The property Ardent Mills chose helped set the stage for the design of this facility," says Karl Pittmann, project manager for design/build/engineering firm Younglove Construction L.L.C. "The layout needed a simple flow of traffic, so whether entering by rail, truck, or ship, you don't need to worry about being in anyone's way."
Ardent Mills led the rest of the design phase by collaborating with all parties involved every week over the course of 12 months to ensure that no equipment, structures, electrical or fire suppression interfered with anything on each floor of the mill.
Construction challenges, lessons learned
While the design phase went smoothly, slip forming the mill, installing the equipment and building the grain receiving side proved to be more difficult. Younglove and general contractor SCA had to safely overcome conditions like tropical storms, high temperatures and lightning.
"Being in Florida created many challenges," says Pittmann. "Florida leads the nation in lightning strikes, so we mounted a piece of equipment to the cranes to help disseminate lightning and reduce the impact from severe weather."
Pittmann says the team created evacuation plans in case of a hurricane or tropical storm, a concrete slip shutdown plan, and a tool and construction building hurricane plan to protect worker safety and the mill's progress.
Summer heat was also a challenge — not only for construction crew members, but also for the concrete. Six of the eight slipforms were slipped during summer months, making it difficult to keep the concrete cool enough to manage.

Rapid line intervention capabilities
"If we've learned anything the past few years, it's that we can't predict the future," said Neely. "Virtually all businesses have been impacted by the current supply chain challenges, however, Port Redwing offers several strategic advantages including its unique location, wheat origination options and increased storage capacity, which is critical in managing sudden supply chain shifts and changes."
Port Redwing's ability to keep operations running smoothly and ensure that customers receive consistent product on time and safely is key.
Its state-of-the-art automation and on-site grain storage capacity of up to 4.1 million bushels means Port Redwing can easily manage sudden supply chain shifts from a natural disaster, global disruption or other unexpected event.
"Rapid line intervention and issue management allows the production line to be stopped, assessed and, if needed, corrected with minimal downtime," Neely says. "Something that might shut down plants for days now can be resolved within minutes."
Advantages of flour mill facility automation
The mill's automation system, provided by Interstates, offers a variety of advantages from assisting with rapid line intervention to equipment integration to product quality and safety.
Bryan Monroe, lead control systems analyst, Interstates, said they developed Ardent Mills' console in order to bridge the I-Control automation software with Ardent Mills' ERP system and ensure smooth facility operations. Doing so eliminates paperwork and reduces the potential for human error by keeping the data flow in sync.

The I-Control software provides track and trace capabilities, lot tracking, reporting, recipe management and integration with all supplied equipment. Interstates was able to integrate with the different vendors by working closely with them, reading manuals, and purchasing a variety of hardware, Monroe said.
Interstates was also able to integrate with all of Port Redwing's specialized equipment, including samplers, scales, fire alarms, power monitors, rollstands, color sorters, bin temperature monitoring, 3D level sensors, communication-based gates, packers, palletizer and more.
"All product movement is transactionally logged, and various data points are collected to verify equipment performance," says Monroe. "We are logging and acting on roughly 20,000 data points to ensure the operators have full knowledge of equipment performance.
"Lot tracking and enforcing lot crossover allows quality control to track what was put in each load down to ensure product safety."
Monroe adds equipment integration with the automation system also plays a key role in facility safety.
"Ardent Mills is diligent about installing hazard monitoring on equipment that has potential to heat up or go out of balance," he says. "There are more than 700 sensors installed to ensure equipment is operating properly, which includes Bühler's new state-of-the-art mill rollstands."
There are also nearly 1,700 temperature sensors measuring hot spots in grain bins so they can be identified before becoming an issue.
Flour consistency starts at grain receiving
The ability to receive multiple inbound channels drives stability in Ardent Mills' supply chain and product consistency.
Receiving speed tops out at 40,000 bushels/hour with dual dump pits, utilized for both rail and truck deliveries. Ship conveyance is rated at 20,000 bushels/hour from the berth. The market dictates what percentage of wheat is received by each mode of transportation, and every step of the receiving operation is automated at Port Redwing.
For rail, the automation system pulls the rail manifest to view the attributes of the incoming wheat. When the cars arrive, the system identifies them using an RFID tag from the receiving software, looks up the car on the manifest and begins receiving the car.
Once the wheat is received, an inline NIR from Bühler determines the live protein values and the system automatically routes it to bins based on the protein ranges designated for the specific wheat type. Mill operators then have full visibility into what cars went into which bins and their average real-time protein values.
"Our state-of-the-art automation allows us to monitor the analytics of all inbound raw material in real time so our operators can make necessary decisions about proper storage of the wheat and enables blending enhancements that contribute to a consistent and safe product for our customers," Neely says.
Journey from wheat to flour — cleaning, grinding and milling
Port Redwing's two milling units feature identical equipment but produce different levels of output and classes of wheat, explained Neely.
The A milling unit is larger with the ability to produce 12,500 cwts/day and grinds hard wheat and spring wheat. The B milling unit can produce 5,000 cwts/day and grind both hard wheat and soft wheat and also produces high and low protein whole wheat.
Bühler Group provided the process engineering and equipment for the cleaning section, flour milling units, finished product storage, and batch mixing system, as well as installation supervision and plant commissioning services.
Product consistency assurance is extended through the milling process with the help of key pieces of cutting-edge technology. The optical sorter by Bühler, for example, uses the latest camera technology to sort out any foreign material or non-milling-quality wheat. It is the final step in the wheat cleaning process and allows Port Redwing to fine-tune the wheat's quality.
"The Arrius fully integrated grinding system is another key component of the Port Redwing Mill," Neely says. "It enables an integrated and self-adjusting grinding system, which allows us to control the quality and consistency of product.
"It also provides energy efficiencies, has additional safety benefits for our people and food safety, and allows for remote digital control."
Finished flour packaging and loadout
The high-speed automated packaging line provides several food and personnel safety benefits. With the ability to run 25- and 50-pound bags at a rate of 26 bags/minute, it provides for safer operation compared to the labor-intensive packers used in the past.
"Plus, with the advanced design ultrasonic sealer, it enhances the food safety of our finished bag," Neely says. "The valve-style bag produces a more stable and stackable pallet that sits inside the pallet footprint and prevents any overhang, reducing the exposure to broken bags."
Port Redwing packages all specialty products on a separate delivery and pack line, reducing the potential for cross contamination from whole wheat and/or bran getting into white flour bags.
The mill can ship flour out in either 25- or 50-pound bags loaded into dry van trailers or bulk deliveries in 50,000-pound bulk containers. Trucks load out via stainless-steel tanks using gravity.
The flour loadout operations are automated with Interstates' NTEP feed loadout system, which automatically prints Bills of Lading and allows the driver to load themselves.
Port Redwing is a testament to Ardent Mills' commitment to drive innovation and transform how the world is nourished. Neely credits their partners for having a big hand in reaching Ardent Mills' goals.
According to Neely, "They were exceptional at every step of the process, and their partnership allowed us to integrate the insights and technologies we needed to build this new state-of-the-art facility. "