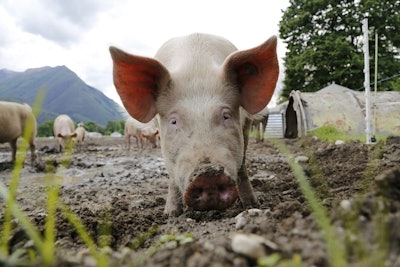 Can you imagine an industry that supports 550,000 jobs with an annual estimated gross economic output of $23.9 billion suddenly vanishing overnight? Should the swine industry suddenly find itself facing an outbreak of African Swine Fever (ASF) in the United States, the livelihood of your customers and your feed mill could be at stake.
"ASF is a very serious, very real issue," says Paul Davis, Ph.D., director of quality, animal food safety and education for the American Feed Industry Association (AFIA). "The hope is ASF stays out of North America."
ASF is currently wreaking havoc in China and Asia. By March, China's herd had dropped nearly 19% relative to a year ago. Small pockets of ASF have also hit Europe in Belgium and Poland.
To help protect producers and U.S. feed mills, the feed and swine industries are partnering up through the Institute for Feed Education & Research (IFEEDER) to fund critical research aimed at better preparing the industries against ASF.
IFEEDER's goal is to provide the feed industry with information so that it may develop tools to better prevent, detect and mitigate the occurrence of ASF in feed, says Rob Cooper, IFEEDER's executive director.
"This recent outbreak of ASF has made us want to be more prepared, as well as help prepare the feed industry to abate this disease," says Cooper. "We also want to help create and reinforce best practices for the feed industry to follow."
Viral survivability research
In partnership with the Swine Health Information Center (SHIC), IFEEDER and the swine industry recently released the results of its first round of research that looked at the holding times for feed ingredients, which are considered a risk for carrying and spreading the ASF virus.
The new details decrease holding times over the initial estimations, which were calculated in October 2018 based on the available research and give additional assurances of further viral degradation if the feed ingredients are contaminated.
"This research answered an industry need and the outcome validated shorter holding times for most ingredients evaluated," says Davis. "This may help ingredient suppliers keep inventories moving and ensure that they maintain a source of safe ingredients for animal food."
More research would be needed to confirm that the results could be extrapolated to other feed ingredients in like classes to those studied. The updated information shows new holding times details for general informational and educational purposes. They should not be considered as recommending or advocating any course of action.
It's important to know where your ingredients originate from and if they are manufactured, sealed, handled and shipped under biosecure conditions.
For example, vitamins and amino acids are typically shipped in sealed or secure containers. Imported soybean meal and DDGS are often transported in non-sealed or non-secure containers. Knowing the origin of ingredients and the disease status of the region or country is essential.
"The feed industry is a committed partner in the effort to prevent foreign animal diseases from entering the U.S. through imported feed ingredients," says Leah Wilkinson, vice president for public policy and education for the AFIA."We encourage dialogue with your feed ingredient or feed supplier to discover all of the measures that have been put in place to supply a safe product."
IFEEDER is now embarking on a second study to help the industry better understand how a virus can impact a feed manufacturing facility and what steps need to be taken to get it back online while maintaining customers' trust.
To learn more about how you can become involved in IFEEDER and support research and education projects that help inform the feed industry, contact Rob Cooper at rcooper@afia.org. ■

Complete information on the research leading to the holding time and the document, U.S. Pork Industry Organization Provide 'Options' for Handling Imported Feed Ingredients, are available at swinehealth.org.
Biosecurity at your feed mill
Our industry must be vigilant about continually improving its biosecurity programs for the protection of animal and human health, says Paul Davis, Ph.D., director of quality, animal food safety and education, at the American Feed Industry Association (AFIA).
"Each facility is unique and has its own footprint," says Davis. "Therefore, each facility should have its own individual plan."
AFIA closely coordinated with representatives from the pork industry, government and academia to update biosecurity guidelines based on new information regarding how viruses may spread throughout the feed manufacturing process.
The updated guidance provides recommendations for how facilities can better set-up an onsite biosecurity program, more thoroughly evaluate and verify their suppliers, work with their shippers, and train on and communicate best practices to all facility personnel and visitors.
Click here to view the updated biosecurity guidance document.