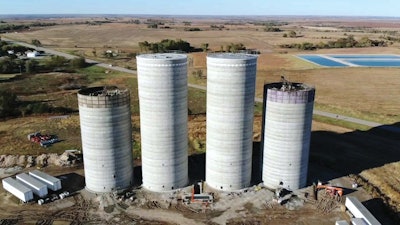 Midland Marketing Coop, Inc. has been in Kansas for over 100 years, starting in 1915 in Hays, KS. Over the past century, the co-op has slowly grown, building its first concrete facility in 1947, and the facility currently located in Palco, KS, in 1954.
It now has 11 locations spread across three counties with 1,200 active members whose grain is shipped to locations across the country. Its newest facility opened in June 2019 in Palco, KS, and is located on 20 acres the company already owned.
Designed to complement the ground storage already on site, the project is part of the co-op's strategy to expand its grain handling capacity to meet the needs of modern agriculture and the expectations of its membership.
Changing times
Over the last 30 years, Midland Marketing has gone from handling 6 million bushels of wheat and half a million bushels of corn, beans and sorghum to 8 million bushels of wheat and 12 million bushels of fall row crops. Even though it has added steel bins and bunker storage, Midland Marketing has not added a new location since 1985.
With so much more grain coming in, Midland Marketing needed more storage. Tom Benoit, a board member of Midland Marketing Coop, Inc., credits Kevin Royer, the co-op's general manager, with the plan they are currently pursuing.
"Kevin Royer came in a year ago and has taken the reins to pursue our goal to grow our storage space," says Benoit. "Kevin has a vision that one day, the grain we take in will go in upright storage or facilities and not put into ground piles or sent to off-site storage."
Royer spoke on the changes to agriculture that have taken place over the past few decades and the increase of soybeans, corn and sorghum grown in a state known for its wheat production.
"Midland Marketing is a very strong co-op, and we see our main task as handling our producer's grain crops as they deliver them to us," he says. "Thirty years ago, producers had 300-bushel trucks and 150-bushel bins on their combines. Now there are 350-bushel bins on combines and grain is sent to us in massive semis. What we used to take in over a month, we receive now in 10 days. So, you have to build to accommodate what your customers and members are sending to you."
Benoit says the board is behind this new project 110%. Alongside the leadership team, the board worked tirelessly to make sure members, employees and outside interests understood how important the new project was.
"We have a plan, we know where we want to build, what we want to build, where the grain is coming in and the direction the grain moves out," explains Benoit. "But there has been opposition from parties that don't understand what we are trying to accomplish.
As a board and as a team, we've got to be focused, and we've got to work together to make them understand."
Not that the people of Palco have had an issue with the new construction. Benoit says the community has been very supportive of the company and its plans.
Formulating a strategy
Once Midland Marketing decided it wanted to expand, the board members started to visit other facilities to get an idea of what they wanted. The group then tried to figure out a way to incorporate the features they wanted into the facility they already owned in Palco. Combining modern features and handling capacities into an elevator built in 1954 ended up being more trouble than it was worth.
"We worked with two or three different contractors to figure out how to add to the old elevator," says Royer. "We couldn't come up with a design plan that was going to allow us to offer the speed and space our customers need. Over time it became obvious that we just needed to build something new."
In late 2017, Midland Marketing chose the nearby Reif Welding Construction Crane Service, Plainville, KS, for the general contractor and McPherson Concrete Storage Systems Inc., McPherson, KS, for the grain storage.
The new facility can store just over 1 million bushels of grain across four massive concrete silos and another million bushels in two ground piles. The old elevator on site can store an additional 500,000 bushels, bringing the total storage at the site up to 2.5 million bushels. The company chose concrete silos over steel bins due to their strength and longevity.
"Steel bins in our area tend to blow away when they're empty, especially on hills like the one we're located on," explained Royer. "We normally get bins empty in spring, so there is room for the wheat crop. That is also the worst storm season around here. The decision was made that we would have better longevity with concrete."
In and out
One of the reasons Midland Marketing chose to build in Palco was because of the large amount of grain it receives from the west. There is also a need in the area that the co-op is in a position to meet.
"There are not a lot of large facilities close to here," explains Matt Keas, north area manager for Midland Marketing Coop, Inc. "If we have the ability to handle it, it will come to us."
To get the business of area farmers, Midland Marketing needed to increase its grain handling speed to a level many producers have become accustomed. At the old elevator, unloading times were limited by a conveying system that could only move 8,000 bushels/hour. If trucks were dumping grain in one of the two bunkers, speeds were slightly better at 12,000 bushels/hour.
The new elevator will be able to take grain in at 20,000 bushels/hour with a conveying system designed and built by Schlagel out of Cambridge, MN. The new system will also be able to load a truck in four or five minutes.
"Once we move the scaling office from the old facility to the new one, we'll able to maintain a continuous flow of trucks," explains Royer. "We're going to be able to dump trucks fast enough that the scale will be the hindrance. This facility is all automated. It will all be run at the computer, so loading and unloading trucks will no longer take human resources."
The automation provided by Hammeke Electric Inc., Great Bend, KS, will work in conjunction with the improved conveying system to speed up operations at the mill and free up employees to perform other tasks. The automation will also give some resilience to the tight labor market in rural Kansas.
It will also give the Midland Marketing team much-needed flexibility to meet the needs of both customers and members. Royer gives the example of moving grain from different types of storage.
"We're supposed to be dumping a bunker right now," says Royer. "But because of the weather, it's not conducive. So we're stuck sitting and waiting for the conditions to get better. The new elevator will give us the ability to move grain as needed and not have to schedule things around when we can move grain."
Strategic stages
The project took under a year and a half to complete, but Midland Marketing is not done expanding the site's capabilities. In the future, the co-op plans to move its truck scale and office from the older grain elevator on the site. It's also exploring direct access to the highway, both to improve speeds and avoid a hairpin turn on Palco's Main Street. The co-op is also in the process of building other projects in the area.
Midland Marketing likes to finance projects without borrowing money, so it moves forward in strategic stages without taking on debt. Benoit says this is possible due to the leadership the co-op has had over the years, and he believes they will have in the future.
"We've been under tremendous management for many years," explains Benoit. "Some tremendous people have helped us move forward with this vision that we have for our co-op family." ■