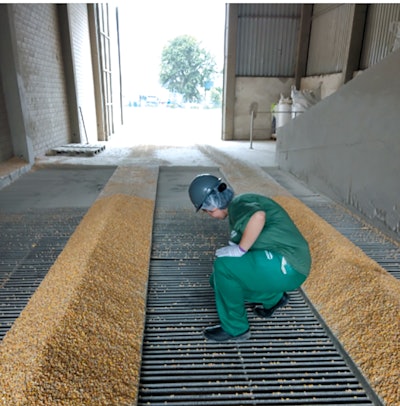 While feed is unlikely to be the way that African swine fever (ASF) enters the United States, it could be how it's spread, which is what keeps agricultural researchers like Cassandra Jones, Ph.D., of Kansas State University (KSU) awake at night.
"The virus is spreading faster than the speed of research," Jones recently told participants of the American Feed Industry Association's Purchasing and Ingredient Suppliers webinar series. And even though some vaccines "look promising," she said, none are commercially available yet.
This past spring, Iowa State University released new data that shows if ASF should enter the country, it could cost the swine industry upwards of $50 billion in losses over a decade, if left unchecked. The deadly virus continues to pose an ongoing and grave threat to the U.S. agricultural community and economy, which is why research that identifies and addresses biosecurity gaps are critical in reducing the risk.
This is where the Institute for Feed Education and Research (IFEEDER), the animal feed industry's public charity, comes into play. Acknowledging there is still much to learn about how ASF could spread at a feed mill, IFEEDER partnered with the Animal Nutrition Association of Canada and the Swine Health Information Center to co-fund a study conducted by KSU to not only look at the ways viruses could potentially enter and infect a feed mill, but also, what mitigation steps could be implemented.
"We studied a multi-farm system experiencing a viral outbreak and evaluated the pathogen load in shared feed mills as potential for it to spread. Studies like this one can identify biosecurity gaps," says Jones, one of the lead researchers on the project. "Ultimately, these findings will help the swine and feed industries proactively improve their biosecurity protocols, policies and procedures when transporting feed to and from swine farms, which will help keep pathogens out and animals healthy."
The study, which launched in March 2019 and wrapped up in early 2020, included taking environmental samples from three different feed mills across Brazil. It looked at how environmental monitoring can play a role in understanding the distribution and mitigation of key pathogens, such as Seneca virus A (SVA), a common surrogate for foreign animal disease.
Each facility had its unique biosecurity challenges, either with the normal operating procedures or required tasks to be performed within facility limitations. The researchers conducted a biosecurity evaluation and audit during each facility visit.
To determine the presence of the selected pathogens, the researchers took a total of 573 samples, with 381 of those samples consisting of feed ingredients or finished feeds and the remaining 192 samples from environmental swabs throughout the feed mills, farms and transportation vehicles. They sent the samples to Iowa State Veterinary Diagnostic Laboratory, which identified and reported viable pathogen growth in each sample.
Overall, the study found that where more biosecurity measures were in place at a feed facility, the lower the instances of pathogens on feed contact surfaces. As one might expect, when fewer biosecurity measures were in place, the likelihood that pathogen presence on feed contact surfaces increased. Given those results, the study showed that compliance with biosecurity protocols is critical in curtailing the prevalence and distribution of pathogenic viruses in a feed mill.
"While we are accustomed to strict biosecurity measures on farms, such as changing shoes or showering in and out, to protect animals from viruses, what this research has revealed is that feed mills can serve as a central hub for spreading the pathogen via personnel or feed trucks to multiple farms quickly," Jones says. "Feed mills should proactively review each potential spoke in their system to ensure their biosecurity protocols, from truck beds to boot bottoms, are adequate for keeping pathogens out of feed facilities and transportation vessels."
The SHIC plans to publish the full results of the study this fall. The research project is just one part of IFEEDER's overall research strategy on ASF, which has brought forward new learnings on other steps – from ingredient holding to diversifying suppliers -– that the feed industry can take to reduce the risks of introducing or transmitting the virus. For more information, visit IFEEDER.org. ■