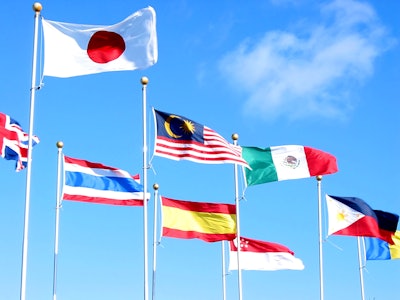 elenathewise | BigStock.com
International experts, including government officials, researchers and industry leaders from several continents, gathered at the Food and Agriculture Organization of the United Nations (FAO) headquarters in Rome for the two-day Global Forum for Animal Feed and Feed Regulators.
The livestock sector must transform along with other elements of global agrifood systems to be more efficient, inclusive, resilient and sustainable, to the benefit of people and the planet, FAO Director-General Qu Dongyu said in opening remarks at the forum.
A critical pathway is ensuring the availability, accessibility, quality and safety of animal feed, which will require concrete actions ranging from the management and restoration of grasslands and pastures to the production of fodder and feed ingredients and the processing and use of compound feed, all of which will require appropriate policies and regulations, he added.
"Feeding animals well will feed the world better," Qu said.
The Global Forum is organized to offer an inclusive discussion platform for national and regional feed regulatory competent authorities, FAO Members, private sector, researchers, development agencies, financial institutions and civil society. Case studies offer all participants the opportunity to explore cutting-edge innovations and strategies to enhance the production of high-quality, safe and environmentally responsible animal feed.
Demand for animal protein, particularly poultry and pork, is increasing due to population growth, urbanization and improved purchasing power in emerging economies. Meeting that growing demand requires emphasizing environmental concerns, socio-economic considerations and an array of safety issues affecting animals and humans. Ensuring adequate animal nutrition reduces the need for antimicrobials, thus contributing to contain antimicrobial resistance (AMR).
While livestock feed value chains vary enormously around the planet, it is crucial that small- and medium-scale farmers, who make up most of the livestock producers worldwide, are provided with cost-efficient and science-based feed solutions and "access to knowledge, technology and markets to improve their livelihoods, contribute to poverty reduction and accelerate rural development," Qu said.
Executives from trade groups such as the International Feed Industry Federation (IFIF), scientists and policy experts from Brazil, Ghana, Mexico, Morocco, the Netherlands, Nigeria, Uganda and the United States, among other countries, and representatives of regional pastoralist networks from around Africa, will speak on the forum. They are expected to address topics ranging from ensuring feed availability to developing and implementing related legislation optimizing feed ingredients for desired health, quality and environmental outcomes.
FAO experts offered insights into the organization's work on the Sustainable Livestock Transformation Initiative, animal nutrition and feed safety, alternative and advanced feed practices to reduce the need of antimicrobials, and normative work on food standards set out in the Codex Alimentarius. Takeaways from the Global Conference on Sustainable Livestock Transformation held at FAO in September were also discussed.