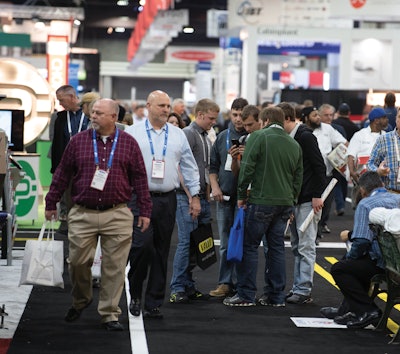 The 2019 International Production & Processing Expo (IPPE) was the largest show on record with approximately 33,000 poultry, meat and feed industry attendees. The trade show and expo took place in Atlanta, GA, Feb. 12-14 and boasted more than 1,420 exhibitors in more than 600,000 square feet of exhibit space.
Sponsored by the U.S. Poultry & Egg Association, American Feed Industry Association and the North American Meat Institute, IPPE is the world's largest annual poultry, meat and animal food industry event of its kind. Each host association provides educational programing for its sector of the industry.
During the AFIA Feed Production Education Program, Gary Huddleston, AFIA's director of feed manufacturing and regulatory affairs, reminded attendees that as far as FSMA is concerned "everything is required now."
The FDA's Food Safety Modernization Act mandates that all small businesses (those with less than 500 employees) need to be inspected starting in the fall of 2019. Huddleston noted a qualified trained individual and a designated PCQI (Preventive Controls Qualified Individual) must be present during inspections. Additionally, each facility is required to have a Hazard Analysis, Food Safety Plan and a Sanitary Transportation Rule Compliance document.
The association also awarded the 2018 Feed Facility of the Year at the Feed Production Education Program. First prize overall went to Famo Feeds of Freeport, MN, the first-ever family-owned business to take home the honor.
AFIA's John Stewart, manager of government affairs, outlined the industry's policy priorities for 2019 during his IPPE TECHTalk What's Ahead in the Trump Administration and Congress? Topping the list was ingredient review appropriations, Farm Bill implementation, removing tariffs and keeping the government open.
"Our members who are ingredients suppliers submit products for review and approval and it may take three to five years for a response, losing our members millions of dollars annually," Stewart says.
Stewart says part of the problem is staffing shortages at the USDA's Center for Veterinary Medicine and government shutdowns.
"Every week of shutdown puts government work a month behind, so we're working hard to keep the government open in a bipartisan way," he says.
IPPE will return to Atlanta Jan. 28-30, 2020. ■