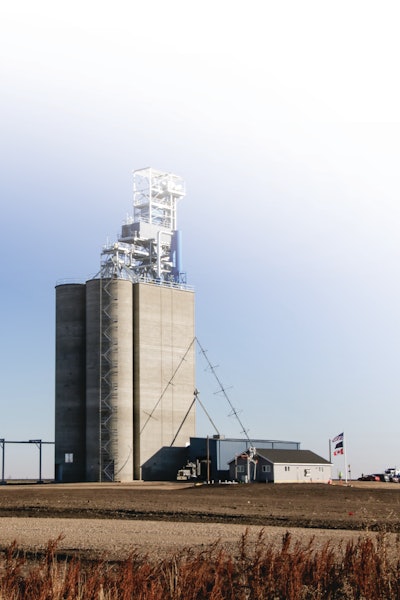 In February 2017 Pipeline Foods, Minneapolis, MN, was founded with the idea that organic grains need a fast, reliable handling network — the type that is enjoyed by conventionally produced grain. In 2016, the USDA Economic Research Service reported that U.S. Organic Retail Food Sales topped $40 billion. The USDA has projected that number will continue to grow, and Pipeline Foods sees this as an opportunity for American agriculture.
"A lot of organic grains, particularly soybeans and corn, are being imported," says Neil Juhnke, managing director – assets and operations for Pipeline Foods. "The U.S. is an exporter of these crops as a whole, the largest in the world, yet we're importing organic corn and beans to meet the domestic demand. With that demand, we saw a business opportunity created."
Over the past two years, Pipeline Foods has acquired locations for organic grain handling across South America, Canada and the United States. For its first greenfield building project, the company chose Bowbells, ND. Pipeline Foods broke ground at the site in November 2017, just nine months after the company's founding. The new facility started taking loads of grain just 11 months later in October 2018.
Consumer demand
Because some consumers are willing to pay a premium for product, it will take more than copying what is in place to build an organic grain handling network.
"Transparency is paramount in this market," says Juhnke. "We must assure those who are choosing to buy organic products are truly getting a product that is grown organically, produced organically and handled organically. We are taking that on as our responsibility."
This challenge begins with the producer. If a farmer is interested in converting from traditional to organic farming, there is a three-year transition. During this time farmers will have to navigate new regulations, crop rotations and farming practices. Pipeline Foods' Farm Profit Program helps producers navigate the organic transition.
"The Farm Profit Program is what we call our focus back to the farmer, and we try to help them with all aspects of the challenges from agronomy to finance," says Juhnke. "We'll help them with the certification process. The key aspect of what we do for the farmer, however, is providing a marketing solution for all the crops that they have to grow in an organic rotation."
The handling network for traditionally grown grains has been around for a long time. Farmers have a place to buy their seeds and chemicals, an agronomist nearby to help them with challenges, and an elevator where they can deliver grain and check the prices daily. Producers who grow organic or are interested in doing so need those same services. Pipeline Foods is developing the network to provide them.
Old is new
When Pipeline Foods began to plan its facility, it was important customers knew the quality of the organic grain taken in was the same or better when it gets sent out. A simple design would make it easier to ensure the integrity of the organic grain was protected while in the facility. The current designs engineering companies were pitching, however, weren't providing the simplicity Pipeline Foods wanted.
With modern designs falling short, the company began to look at the older wooden grain elevators that primarily worked through gravity for inspiration.
"In organic, we need a lot of the same functionality that they needed when they built older wooden elevators," explains Juhnke "We needed multiple small bins. We need to be able to blend the quality. We need to be able to clean and screen. Most of the elevators today are built without a screener, because conventional crops have low dockage; herbicides in the field have replaced the cleaner in the elevator."
Luckily, when they reached out to The Weitz Company, Des Moines, IA, for design and engineering, they immediately found a match.
"The Weitz team did an excellent job," says Juhnke. "What stood out was the design effort up front. When I asked, 'how would you build a modern wood crib grain elevator?' — they immediately had an answer for us."
Gerald Leukam, vice president, design services – industrial for The Weitz Company, recalled "We referenced a wood crib grain elevator book published by the Grain Elevator Society in 1913. What we came back to Pipeline Foods with, and ultimately built for them in Bowbells, is a modern day version of an early 1900s wooden elevator."
North Dakota winter
The facility's November construction start date and quick build schedule met an opposing obstacle — North Dakota winter. Crews had to move quickly before the ground froze and temperatures got too low for pouring concrete. The mat slab that supports the concrete facility is approximately 3 feet thick with the engineered structural fill, below the mat slab, extending down an additional 7 feet 3 inches. After the pour, the mat slab was covered and the site was locked down for winter.
Winter then set in and work moved to Weitz's warehouse in Iowa. Wooden slipform subassemblies were cut constructed, with the intention to truck them to Bowbells when the weather permitted.
In March, temperatures had risen enough to begin construction on the slipform
concrete structure. The facility rose above the North Dakota plains at 12 feet a shift, 24 feet a day, as crews worked 24 hours for five days straight.
When complete, the crew poured 2,100 cubic yards of concrete, enough to lay a three-foot-wide sidewalk 11 miles to the Canadian border. Throughout this process, and all the construction, the goal was keeping areas of potential contamination to a minimum.
"There was a goal to have cleanliness all through construction," said Leukam "Concrete slipform was used to minimize ledges where dust would be able to build up. When all the equipment and structural steel arrived on site, it was stored and covered to keep it clean. If items unexpectedly became contaminated, they were cleaned prior being brought into the building."
Doing things differently
Throughout the design process of the Bowbells facility, the goal was to use the natural force of gravity and as little equipment as possible while still having the benefits of a modern grain handling operation. The fewer moving parts, the fewer points where grain can be mixed or spilled. Simplicity in design does not equate to simplicity in equipment. All of the equipment that went into the facility goes toward the goal of keeping the grain pure and traceable.
Every truck that brings grain to the facility gets sampled by an Intersystems Inc., Omaha, NE, automated grain sampler. The dust from incoming grain is controlled by Schenck Process, Kansas City, MO, dust collection system. Then incoming grain runs through a Carter Day Int'l., Inc., Minneapolis, MN, Scalperator that sits near the top of the structure before entering the bins.
The total capacity of the bins at the facility is 250,000 bushels separated between a matrix of 25 square, and two larger circular bins that can store 34,000 bushels each. Weitz designed and had custom fabricated mass flow hoppers to provide first-in, first-out flow from the bins to enhance traceability.
"When you have sand in an hourglass, the sand will run down and make a hole in the middle, that mixes the product, and we didn't want that," explains Juhnke. "We wanted to be able to trace an individual truckload of wheat through the facility to the rail car that it went into. The mass flow hoppers enhance our ability to trace grain through the facility."
The conveyors at Bowbells have a formed fitted bottom for excellent cleanout and flush mounted gates that leave no "pockets" for material to accumulate. The bucket elevators have contoured bottoms of the boot sections to minimize material accumulation and have the ability to provide a pulse of air to sweep out any excess material remaining in the boot section. Warrior Mfg., LLC, Hutchinson, MN, built both material handling systems, and the quick and constant cleaning minimizes cross contamination.
Pipeline Foods partnered with BNSF Railway for its train operation. The track can handle a 25-car shipment, using a remote-control TrackMobile to move the cars and a three-person team to open, load and close them.
The track also has a concrete cleanout bed leading to the facility, where grain left behind in the rail cars can be swept onto and vacuumed up.
"We use system cars, but we have to inspect and clean them before we load organic grain in them," says Juhnke. "We have to certify that the car has been cleaned out before we put anything else in it. We get quite a bit of free grain this way that we give to local farmers to use as feed."
To help aid in traceability, the facility has invested in process solutions. Each bin is wired with continuous level indicators from BinMaster Level Controls, Lincoln, NE, so an operators know how much is in each bin at any time. An automatic sampling system allows the facility to test every load coming in for everything from moisture and mycotoxins and other parameters critical to their customers.
That means that operator also knows where that grain came from and its testing information. The operators also can blend out of any one, or all, of the 25 bins, from the process control system provided by Interstates Control Systems, Inc., Sioux Center, IA.
Providing a choice
From the outside, the Bowbells facility looks more like a feed mill than a grain elevator. The half million-bushel bins are nowhere to be found, and there is no ground pile to handle harvest time overflow.
"During fall harvest, there won't be a long truck line here, because our sourcing circle is 400 miles," says Juhnke. "Organic farmers, out of necessity, have always had lots of on-farm storage. So they harvest to their bins, and then they deliver it to us over a steady 12-month period. This facility was built to use the efficiency of the railroad, providing our farmers a higher price for their crops, and our customers a little lower price for the organic grains. Our margin comes from bringing efficiency to the supply chain."
If the United States is going to capitalize on the growing demand for organic grain, producers will need a separate-but-comparable grain handling system built for them. This new system will co-exist with the current system for conventional grain and provide a choice to both producers and consumers.
"Right now, organic farming is less than 2% of the U.S. agriculture supply chain," says Juhnke. "It's growing rapidly, and is certainly not a threat to conventional farmers; it's just an alternative that they can evaluate." ■
BY THE NUMBERS:
Pipeline Foods, Bowbells, ND, Organic Grain Processing Facility
250,000 total bushels of capacity
25 110-foot-tall square bins
10,000 bushels/hour receiving and load up
200 feet tall
400 mile sourcing circle