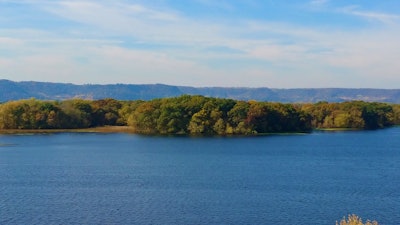 According to the USDA Grain Transportation Report, rising flood waters have stopped Mississippi River traffic at St. Louis, MO.
On May 3, river levels at St. Louis exceeded 38 feet, which is the threshold at which the U.S. Coast Guard closes the river to all vessel traffic in the St. Louis area.
Forecasts indicate river levels will not recede below the 38-foot stage until mid-May.
Further upstream, river conditions have been very disruptive. For example, year-to-date (YTD) there has been no grain traffic at Mississippi River Locks and Dam (L&D)15, (near Davenport, IA). On average, by the first week of May, L&D 15 has a YTD total of 1.3 million tons of down-bound grain.
For the week ending on May 4, YTD down-bound barge tonnages at Mississippi River Locks 27 (upstream from the St. Louis closure) were 3.6 million tons, down 43% from the 5-year average. Down-bound grain on the Ohio River has also been impacted.
Year-to-date grain tonnages at Ohio River Olmsted L&D were 4.0 million tons, 11% lower than the 5-year average.
However, YTD rail deliveries of grain to the Mississippi Gulf were 14,639 cars, 102% higher than last year at this time.