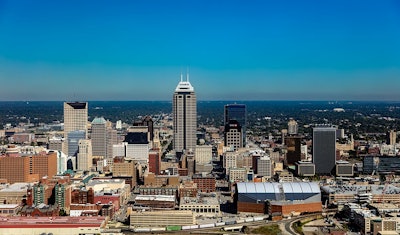 From Dec. 8-10, the National Grain and Feed Association (NGFA) will host its 48th Annual Country Elevator Conference (CEC) and Tradeshow at the JW Marriott in Indianapolis.
CEC 2019 will bring together more than 600 agribusiness professionals and show personnel for two and a half days of education and networking.
Designed specifically for country elevator personnel, this year's conference general session will include a 2020 Ag Market Outlook, insight into the status of U.S. trade negotiations, an expert panel examining various market disruptors, and a critical look at how diversity in ag can provide the industry with a pool of talented leaders with new ideas and perspectives.
Among the various breakout sessions, there will be workshops examining rural mental health, an in-depth market advisory session and a look at hot topics affecting your business today.
Session highlights
2020 Grain Market Insights
Seth Meyer, research professor, Food and Agricultural Policy Research Institute, University of Missouri
Dr. Meyer, USDA's immediate past chairman of the World Agricultural Outlook Board, will provide a comprehensive overview of USDA's process for issuing its supply and demand estimates. Currently the associate director of the Food and Agricultural Policy Research Institute at the University of Missouri, he also will share his outlook for grain markets for 2020 and beyond.
Trade Deals on the Way? — China, Japan and USMCA
Ted McKinney, undersecretary of Agriculture for Trade and Foreign Agricultural Affairs, USDA
USDA's top trade official will describe the agency's efforts to help U.S. agriculture access the world market. Over 25% of U.S. grain demand hinges on the outcome.
The New Hedging Frontier: How Grain Departments Can Lead the Charge in Hedging Fertilizer and Interest Rate Exposures
Richard Jelnick, vice president Global Education, INTL FCStone; Eric Donovan, managing director - Head of FX & Interest Rates, INTL FCStone; and Josh Linville, senior risk management consultant, INTL FCStone
INTL FCStone will show you how to use your grain risk management expertise to reduce exposure in other areas of your business. Due to recent developments in the fertilizer and interest rate markets, common grain risk management concepts can be used to protect and enhance the elevator and grain producer's bottom lines.
Resiliency for Agriculture: The Business Implications of Rural Mental Health Challenges
Michele Payn, principal, Cause Matters Corp.
What are the business implications of declining rural mental health? How can you ensure your organization's workforce is healthy, both physically and mentally? Payn will help you recognize signs of mental distress and offer resources to help destigmatize mental health concerns in agriculture.
African Swine Fever: Analyzing Impacts of a Global Crisis
Michael Nepveux, economist, American Farm Bureau Federation (AFBF)
The spread of African Swine Fever in Asia and parts of Europe is causing a decline in world meat production for the second time since 1960. Nepveux will break down what this means for agriculture's protein sectors and their demand for grain.
CEC will also host several receptions and networking events to give attendees a chance to visit with peers and exhibitors. More information and registration can be found at imis.ngfa.org/CEC. ■

CEC 2019 Agenda
Sunday, Dec. 8, 2019
9 a.m. – 7 p.m. Registration
9 a.m. – 2 p.m. State/Regional Affiliated Association Leadership Conference (by invitation only)
2:30 – 5 p.m. NGFA Country Elevator Committee Meeting
4 – 7 p.m. Trade Show Open | Welcome Reception
Monday, Dec. 9, 2019
7 a.m. – 7 p.m. Registration
7 – 8:30 a.m. Buffet Breakfast in Trade Show
8:30 – 10:30 a.m. Opening General Session
10:30 – 11 a.m. Break
11 a.m. – 12 p.m. Breakout Sessions – Round 1
12 – 2 p.m. Buffet Lunch in Trade Show
2 – 3 p.m. Breakout Sessions – Round 2
3 – 3:30 p.m. Break
3:30 – 4 p.m. Industry Keynote Speaker
4:30 – 6:30 p.m. Networking Reception in Trade Show
Tuesday, Dec. 10, 2019
7 a.m. – 7 p.m. Registration
7 – 8:30 a.m. Buffet Breakfast
8:30 – 11 a.m. General Session
11 a.m. Conference Closing Remarks