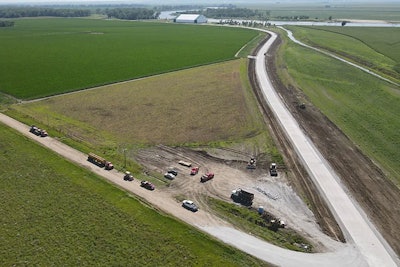 Courtesy of NEW Cooperative
A recently completed $2.4 million rural freight road in Iowa allows agricultural freight movements from Interstate 29 directly to NEW Cooperative's Port of Blencoe barge terminal on the Missouri River — halfway between Sioux City, Iowa, and Omaha, Nebraska.
The road project was funded by a 2021 U.S. Department of Commerce grant to improve road access to the Port of Blencoe. According to reports, a key goal of the project was to facilitate easier access to the terminal for farmers and agribusinesses, providing them with better access to global grain markets.
NEW Cooperative's $11 million barge terminal opened in June 2021. Since then, the cooperative has been transporting 36,000 tons of dry fertilizer from ports on the Mississippi River to their facilities in Iowa. Plans for the new road were in the works when the facility opened.
NEW Cooperative estimates that in just one year, bringing products up the Missouri River by barge and loading it on to semitrucks will save approximately 250,000 truck highway miles. Adding in employee and fuel costs, the savings add up to nearly $250,000.
The Port of Blencoe's 38-acre site will be the most northern active port on the Missouri River, said NEW Cooperative. It's expected to annually accommodate 240,000 tons of soybeans, corn, dried distillers grains (DDGS), dry fertilizers and ag lime and will have the capacity to unload, clean and reload up to nine barges at a time.
NEW Cooperative, based in Fort Dodge, Iowa, is owned by 8,000 farmers and has 1,000 full-time employees at 66 locations in the state.