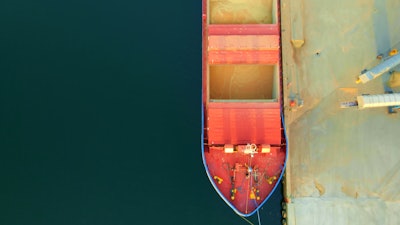 Around the world, the U.S. Grains Council (USGC) works to showcase the high quality of U.S. agricultural commodities through educational trainings, programs and reports to build upon its mission of developing markets, enabling trade and improving lives.
Last year brought many great opportunities and programs, both virtually and in-person, for USGC, many of which can be viewed in the organization's recently released annual report at grains.org/2021-annual-report.
In all corners of the world across all commodities that USGC promotes, programming and educational opportunities are ramping up.
So far in 2022, USGC has continued to use innovative methods on behalf of the commodities it represents as the organization seeks to meet the demands for U.S. commodities around the world.
Corn Harvest Quality Report
USGC's Corn Harvest Quality Report, which has been published for the last 11 years, acts as a tool for educating global buyers on the benefits of U.S. corn and the quality that comes with each year's crop.
In December and January, USGC hosted its annual rollout events around the world to present the findings of the report. With a mix of virtual and in-person rollouts, USGC was able to meet with buyers and end-users across multiple markets, while highlighting the advantages of U.S. corn through the report.
"For our customers, there is no report like this one," says Caleb Wurth, USGC's director in Southeast Asia. "At USGC, we want to be as transparent as possible — not only presenting the good years like we had this year, but also the years where the crop may have experienced challenges – in which case we quantify these challenges and determine risk value."
In Dubai, USGC's Middle East/Africa/Europe office hosted its first in-person event in two years, presenting the findings of the report to approximately 40 regional importers, feed manufacturers and feed users in the region. Attendees included prospective buyers and end users from Tunisia, Turkey, Egypt, Jordan, Saudi Arabia, United Arab Emirates (UAE), Oman and Israel.
"These workshops are really a key opportunity to put U.S. exporters together in the same room with regional grain buyers to discuss prospects for the upcoming year," says Kurt Shultz, USGC senior director of global strategies.
"There is a tangible thirst for knowledge and an exchange of ideas, and these workshops and the side meetings provide a key opportunity for USGC staff and members to promote U.S.-origin feed grains."
In addition to corn, USGC's barley, sorghum, ethanol and distiller's dried grains with solubles (DDGS) work has started off strongly in the new year.
Barley
USGC, along with the Agricultural Trade Office (ATO) in Beijing and the U.S. Department of Agriculture's Foreign Agricultural Service (FAS) recently put together a report highlighting the advantages of U.S. barley malts and the work of USGC and FAS in the promotion of its use in China's craft beer industry.
With China being the world's largest beer producer, USGC, ATO and FAS want to ensure U.S. agriculture is the chief supplier of one of the essential ingredients in the country's growing craft beer industry. While U.S. barley malts and hops are priced above competing products from Australia and Europe meant for lagers, U.S. ingredients have the diverse taste profiles, quality and stable production that best suits craft brewers.
Through first-hand sample usage, craft beer brewers across China are developing a better understanding of the quality of U.S. barley malts and the difference it makes in brewing.
Sorghum
In the first quarter of this year, USGC staff traveled to Texas to better understand the sorghum industry there and the value chain for it.
A representative from a Vietnamese feed grain importer also joined the group to get a closer look at the quality of U.S. sorghum. While there, the group visited several ports from which sorghum moves.
Ethanol
So far in the 2021/2022 marketing year (MY), U.S. ethanol exports landed 5% higher than the previous year, totaling 330 million gallons. Increased mobility and reduced COVID-19 restrictions have spurred a near global recovery in ethanol trade.
Brazil saw gains, and recent policy developments are signaling long term increased demand in Canada, the United Kingdom (UK), the European Union (EU), Colombia and India.
"USGC is encouraged by this uptick in global ethanol trade," says Brian Healy, USGC director of global ethanol market development. "Our offices are hard at work with local partners in demonstrating the ongoing value of using globally available, low carbon ethanol to meet their policy goals."
In February, Healy and Juan Sebastian Diaz, USGC Latin America regional ethanol consultant, visited Colombia to discuss the state of the Colombian ethanol market with government and industry officials there.
Additionally, USGC's South Asia regional office has conducted a monthly speaker series to educate ethanol stakeholders in India about the advantages of biofuels.
DDGS
In Southeast Asia (SEA), USGC's team has been promoting the use of DDGS as a more-cost effective feed alternative for dairy farms there.
Small-scale dairy farms in the region are struggling to survive due to increased feed prices even though demand for fresh milk and dairy products are on the rise across the region.
USGC teamed up with the Department of Veterinary Services (DVS) Malaysia to deliver feed education to farms in the Malaysian state of Johor. USGC's SEA team will also look to larger-scale commercial dairy farms to gain a different perspective.
"Dairy is one of the fastest growing livestock
industries in Southeast Asia and is relatively young compared to other industries," said Chuin Shern Lee, USGC regional marketing specialist for Southeast Asia.
"The dairy industry can offer more opportunities for USGC to grow the demand for commodities like DDGS and corn."
Click here for more information or follow USGC's social media accounts. ■