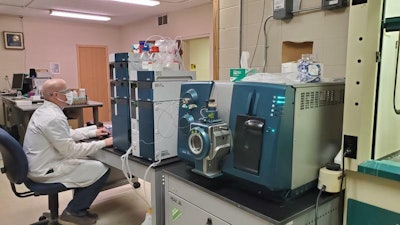 Dairyland Laboratories is now offering in-house mycotoxin analysis via HPLC mass spectrometry, which is the gold standard method of analysis for mycotoxin testing in the industry.
This investment in technology makes Dairyland Laboratories one of the few independent commercial labs performing this testing in the United States.
"By bringing an HPLC-MS/MS in-house at Dairyland, we are able to ensure our customers superior accuracy and data consistency, free from false positive or erroneous results that can occur with other methods," says Dave Taysom, president. "We have improved turnaround time for all mycotoxin testing. HPLC-MS/MS allows for one method for all feeds and forages, and customers will find nutrient, mycotoxin and mold data on one report (when applicable)."
For those interested in how HPLC-MS/MS can improve your mycotoxin testing program, signup for a webinar by emailing lkieser@dairylandlabs.com. The webinar will cover the science behind the method, why the packages are designed to cover the most common use cases, and how Dairyland's mycotoxin testing program will provide real value for testing dollars.

About Dairyland Laboratories
Founded in 1958, Dairyland Laboratories is a leading agriculture testing laboratory headquartered in Arcadia, WI with satellite laboratories in Stratford and De Pere, WI and St. Cloud, MN, Battle Creek, MI, and Jerome, ID.
Dairyland Laboratories is a completely independent laboratory providing extensive analysis of feed, forage, soil, water, manure, molds and mycotoxins. Established in 1958, they have grown to become a primary supplier of agriculture analysis with customers in 42 states, 6 Canadian Provinces and over a dozen foreign countries.