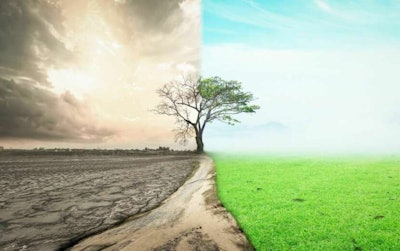 The USDA awarded a $90 million grant to a Truterra pilot project as part of the U.S. Department of Partnerships for Climate-Smart Commodities investment.
The USDA partnership will leverage funds from USDA and project partners, including the American Farmland Trust, to scale production and demand for climate-smart corn, soybeans, wheat, cotton and milk production.
The pilot project by Truterra, the sustainability business of Land O'Lakes, is one of the top-funded projects by USDA, and one of the only projects with a national reach.
The pilot project seeks to engage up to 20,000 farmers and dairy producers over the course of five years, focusing on reaching historically underserved farmers, and will impact more than 7 million acres of land.
Agriculture Secretary Tom Vilsack visited River Falls, WI, on Sept. 15 for a press conference to mark the significance of the project, along with Land O'Lakes CEO Beth Ford.
The climate smart solution
"The current market for climate smart commodities has a connection and a scale problem," Ford said. "Farmers interested in producing climate smart commodities and companies interested in purchasing them need connection. Very often, both farmers and companies interested in purchasing climate smart commodities lack the necessary infrastructure, tools, and information to build more sustainable links in their supply chain."
The pilot project will bridge the gap through ag retailers working with grant partners to incent farmers to adopt regenerative agriculture practices, help match farmers with incentives, offer agronomic advice, data entry support and more, to support improved soil health systems.
Truterra pilot project's impact
The project aims to achieve GHG emissions reductions of approximately 7.2 million metric tons CO2e over five years, or roughly the equivalent of removing 1.5 million cars from the road for a year.
Grant partners will deploy digital infrastructure, including the Truterra sustainability tool, to aid in measuring environmental impact and supporting validation and quantification processes.
"This is not about offsetting impact, but about defining a win-win situations for farmers and companies alike," Ford said.
Funding climate smart commodities
While the program will eventually be self-funded through the sale of climate-smart commodities and ecosystem credits, the initial funding will come from USDA, Vilsack said.
"The good news is that with the passage of the Inflation Reduction Act, and an historic investment in conservation of nearly $20 Billion, we're now able to transition these pilot projects into a program," Vilsack said. "As they report back to USDA what works and what doesn't work, we'll bring people together for sharing stories and information."
Celebrating a step forward on climate change
"What I love is that this is so forward looking," Ford said. "Now, this is about building for the future. It's about resilience of our food supply. It's about addressing climate change and the risks we have and we all see, and being part of the solution. I couldn't be more thrilled to have everybody here today celebrating this, but also to say this is another step forward."
Vilsack said there are more than 15 partner projects available in Minnesota and Wisconsin that producers may be able to participate in by contacting an ag retailer. Program details and contact information is available at USDA.gov/climate-smart-commodities.