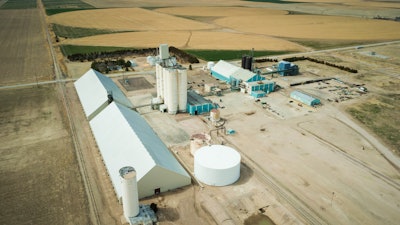 Farmers in Kansas and Oklahoma will have access to the rapidly growing renewable fuels market after Scoular converts a facility in Goodland, Kansas, into a dual oilseed crush plant.
Scoular will recommission the former sunflower crush plant outside of Goodland that it purchased in 2021. The Nebraska-based agribusiness will make an investment to retrofit the facility to crush both soybeans and canola.
Up to 40 new jobs will be created in Goodland, located in northwest Kansas. The facility is expected to begin operations in fall 2024.
Canola valued for its high-oil content

Because of its high-oil content, canola is highly valued in the renewable fuels sector, particularly for use in the growing renewable diesel and sustainable aviation fuel markets. Those markets will grow to over 5 billion gallons by 2025.
The facility will process 11 million bushels of oilseeds a year, toggling between canola and soybeans as availability dictates. As low-carbon crops such as camelina develop in the future, Scoular will be able to process those new seeds.
"Scoular is bringing the canola market back to Kansas and Oklahoma," said Ed Prosser, senior vice president of Emerging Businesses. "This investment will provide producers with the opportunity to participate in the booming renewable fuels market."
Scoular partners with K-State on canola best practices

Scoular is partnering with Kansas State University to advise farmers on best practices for growing canola. The crop is well-suited for planting in a winter wheat rotation in the Southern Great Plains. The rotation can improve weed control and wheat yields.
"The recommissioning of the crush facility in Goodland will breathe new life into the Great Plains canola industry," said Michael Stamm, a K-State agronomist and canola breeder. "This facility will provide new opportunities for renewable diesel feedstock production, generating greater value for the canola grown in the region."
U.S. Sen. Jerry Moran of Kansas said in small towns across Kansas, every business counts.
"Scoular's decision to invest in the crush facility in Goodland will increase marketing opportunities for farmers and contribute to the economic prosperity of northwest Kansas," said Moran. "The Goodland oilseed processing plant is an important juncture for farming in western Kansas and food and fuel production for the nation."