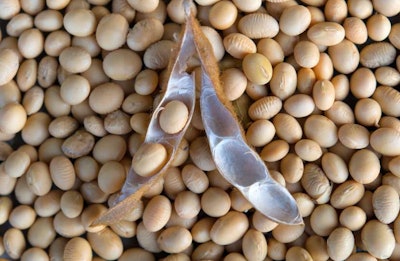 Continental Refining Co. (CRC) is expanding its product line to include soybean meal and hulls.
CRC's soybean processing facility processes 330 tons of soybeans into 250 tons of high-protein soybean meal daily with the potential to expand production to over 500 tons/day.
Soybean meal is widely recognized as an essential animal feed supplement and is commonly used in pet food. CRC's soybean crushing process also yields soybean hulls, which are a feed ingredient for livestock and poultry. These products are extracted from the outer layer of soybeans during the crushing process.

The market size for soybean meal and hulls in the central Kentucky region is estimated to be approximately 250,000 tonnes per year, with demand from livestock producers, poultry producers, pet food manufacturers and feed mills throughout the states of Tennessee, Ohio and Indiana.
"We are steadfast in our pursuit to expand our product line with these superior soybean byproducts," said Demetrios Haseotes, chief executive officer of CRC. "We have no doubt that our customers in the central Kentucky region will appreciate the accessibility of locally produced, premium feed ingredients."
Expansion will allow processing up to 4 million bushels/year

The expansion of the soybean meal and hulls product line enables the facility to process almost four million bushels (84,000 tons) of soybeans per year into vegetable oil and soybean meal and hulls for livestock and poultry feed. Additionally, the company's biodiesel refining division is expected to generate up to 5 million gallons/year.
CRC operates a 77-acre ag and petroleum industrial complex in Somerset, Kentucky that processes raw soybeans and other feedstocks to create a range of feed products, such as mechanically extruded soybean meal and crude degummed soybean oil used at its biodiesel plant.

Related reading
Continental Refining Co. Breaks Ground on Soybean Biodiesel Refinery