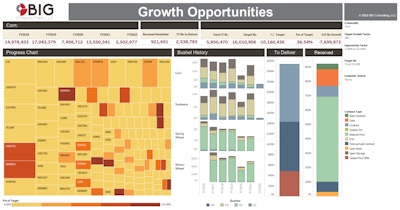 BIG Consulting
BIG Consulting has launched the Grain Bid Navigator, a tool designed to empower grain marketers with market pricing information.
The company said its innovative platform can offer co-ops, grain marketers and farmers a comprehensive view of grain bids from hundreds of locations in a single, user-friendly interface. The Grain Bid Navigator is a subscription-based solution that aggregates data from a vast array of sources and presents it in an easy-to-navigate format, simplifying the process of cross-comparing market pricing and making informed decisions.
BIG Consulting

Key features
Comprehensive data aggregation: This tool pulls pricing information from hundreds of locations, consolidating it into one convenient site. This eliminates the need for laborious manual searches.
Location-based mapping: The Grain Bid Navigator displays pricing information on an intuitive map, allowing users to visualize market conditions by location. This visual representation makes it easier than ever to identify trends and opportunities.
Filtering and comparison: Users can filter and compare grain bids on a month-to-month basis and even analyze futures prices, enabling them to make data-driven decisions that align with their specific needs and goals.
Simplified comparison table: The platform's comparison table feature streamlines the process of evaluating bids, providing a clear and concise overview of pricing differences between locations.
Basis data: Grain Bid Navigator allows users to quickly and easily identify when changes have been made in basis bids by various locations. The historical basis data can be utilized to better understand when markets are changing in a particular geography.
For more information, click here.