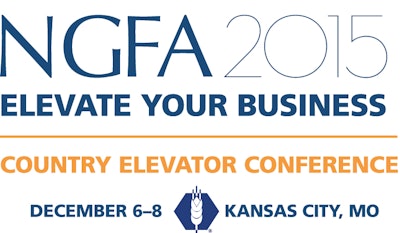 This December, National Grain and Feed Association members will flock to Kansas City, MO, to take part in the single largest gathering of country elevator personnel in the nation — the Country Elevator Conference. This year's theme, "Elevate Your Business," is built around addressing the real-world challenges that grain industry professionals face on a daily basis like marketing, grain merchandising, making purchasing decisions and dealing with employees.
Taking place from Dec. 6-8 at the Sheraton Kansas City Hotel at Crown Center, the 2015 CEC will offer breakout session-style educational programming for the first time.
"The new format includes concurrent sessions that will focus on important marketing and operations issues that will make this year's program even more relevant to country elevator managers and their merchants and operations personnel," said Randy Gordon, president of NGFA.
This new format allows attendees to tailor the meeting experience to their individual business needs by attending sessions designated as one of three major topics: Merchandising, Operations and Management.
"There's a lot of 'buzz' about the redesigned program, and I know a lot of member companies are planning to bring additional employees who can benefit from the information that will be conveyed during these breakout sessions, as well as the general sessions," Gordon said.
Additionally, the CEC offers keynotes, networking, meals, and a trade show featuring more than 90 booths. Visit www.ngfa.org/country-elevator-conference to register for the event and get hotel details.
---
Schedule
At-A-Glance:
SUNDAY, DEC. 6, 2015
4-7 p.m.: Trade Show Open
5:30-7 p.m.: Welcome Reception in Trade Show
MONDAY, DEC. 7, 2015
7-8:30 a.m.: Trade Show Open (Continental breakfast in
Trade Show)
8:30 a.m.-Noon: Country Elevator Conference Program
Noon-2 p.m.: Trade Show Open (Buffet Luncheon in Trade Show)
2-5 p.m.: Country Elevator Conference Program
5-6:30 p.m.: Trade Show Open (Reception in Trade Show Area)
TUESDAY, DEC. 8, 2015
7-8 a.m.: Idea Exchange Breakfast
8 a.m.-Noon: Country Elevator Conference Program
General and Breakout Sessions Schedule
Monday Dec. 7, 2015
8:30-10 a.m. General Session:
Country Elevator Chairman Randy Broady
NGFA Chairman Gary Beachner
"World Grain 1975-2025: Episodes and Aftermaths"
Bill Hudson, Principal and Founding Partner, ProExporter Network
10:30-11:45 a.m. Concurrent Breakout Sessions:
1. Next Level Marketing: Raise Your Game
"How to Capture the Carry in the Market" Dianna Klemme, vice president, Grain Service Corporation
"How to Merchandise on Rail and Water" Tyson Chick, senior grain merchandiser, CHS
2. We Want YOU to be Ready for an OSHA or FDA Inspection
"OSHA Inspections Are Around the Corner – Getting Your Safety Data Sheets and Labeling in Order" Jess McCluer, director of safety and regulatory affairs, NGFA
"FDA Inspections - What to Expect" Dave Fairfield, vice president of feed services, NGFA
3. NGFA Trade Rules and Arbitration – How They Work in the Real World (Case Studies) Steve Lucas, president, Jayhawker Consulting
2-3:15 p.m. Concurrent Breakout Sessions:
1. Next Level Marketing: Raise Your Game (repeat of 10:30-11:45 a.m.
sessions)
2. Management, Merchandising and Operations: Intersection or Collision?
"So You Want Permission to Purchase a Capital Item – Where's Your Risk Assessment and Calculation for Net Present Value and Rate of Return?" Dennis Inman, commercial leader, Cargill
"Unreasonable Merchandisers vs. Unbending Operations - Striking a Balance to Maximize Profit" Panel Discussion with Audience ParticipationRandy Broady, director of grain operations, Trupointe Cooperative Inc. Dough Johns, vice president grain - river, ADMMitch Dawson, director of grain operations, MFA Incorporated
3. Understanding and Maintaining Grain Quality
"The U.S. Grain Grading System – How it Operates and Quality Factors to Check for 2015 Crops" Tom Meyer, president, Kansas Grain Inspection Service
"How to 'Successfully' Carry Crops Through the Summer" Nick Friant, grain handling coordinator, Cargill Inc.
3:45-5 p.m.: Concurrent Breakout Sessions
1. "Turning the Challenges of Summer 2015 into Opportunity – How the Successful Merchandisers Made it Work" John Werner, CEO, White Commercial
2. Management, Merchandising and Operations: Intersection or Collision? (repeat of 2-3:15 p.m. sessions)
3. Understanding and Maintaining Grain Quality (repeat of 2-3:15 p.m. sessions)
Tuesday Dec. 8, 2015
8 a.m.-Noon General Session:
"How to Unleash Your Employees' Full Potential and How to Keep Them" Chris Fischer, manager of organizational effectiveness, business development services, Land O'Lakes Inc.
"Issues Confronting Lenders and How They Affect Your Access and Costs of Capital" Andrew Guida, J.P. Morgan (Invited)
"So You Have a Trade Dispute ... Now What" Chip Buckner, legal department, Bartlett Grain Company LP Mary Turke, managing partner, Michael Best & Friedrich, LLP (Invited)
"Weather Trends for 2016 Crops" Harvey Freese, founder, Freese-Notis Weather Service