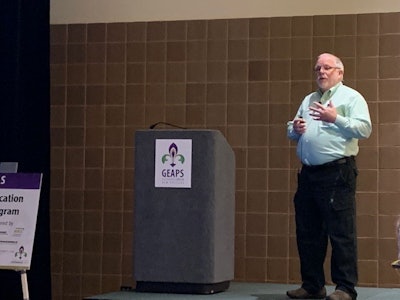 Are you planning your next facility project?
At the GEAPS Exchange Tuesday morning, Ross McEllhiney, projects manager NAM with Louis Dreyfus Co., discussed new technology that could help you during the process in his "Utilizing Laser Scanning with your Next Facility" education session.
The session reviewed the benefits of using technology and new planning approaches. 3D Modeling, laser scanning, drones, and modern modeling software have created complete virtual reality versions of our facilities and design accuracies of +/- 1/2 inch across an entire facility.
The combination of 3D laser scanning and 3D equipment modeling allows for greatly improved designs and installation accuracy. 3D laser cloud points eliminate the need for as-built drawings and greatly improves design accuracy.
McEllhiney says the proper use of 3D scans can reduce the engineering cost by as much as 50% and construction cost by 15% to 20%.
"LDC has completely changed its project workflow to incorporate Point Cloud technology," he says. "It saves time, saves money and improves quality.
"This is the Holy Grail," he continues. "This is the old triad and in the past you had to pick two, now we get all three."
How does scanning help?
With a typical job, paper records can be outdated and inaccurate, says McEllhiney.
"The real world is crooked and crazy with few straight lines and many round circles," he says. "With scanning there's no need for existing drawings. You can scan the installation during the construction process to make sure the equipment is installed per print. You can scan rebar before concrete is poured as proof of placement."
Many details show up on LiDAR scans that don't show with traditional scanning methods.
LiDAR (Light Detection and Ranging) is a remote sensing method that uses light in the form of a pulsed laser to measure ranges.
"We use LIDAR because they're fast (up to two million points/second), accurate (ranging error of +/- 1-2mm) and they capture rich images with millions of points," says McEllhiney. "Each scan takes about 11 minutes."
Of course, every technology has its disadvantages.These include:
Line of site – requires multiple scans to get all sides of an object
Expensive - $50,000 to $90,000. "This seems like a lot, but we've done a lot of projects and we feel we're saving about 10% per project," McEllhiney says.
Complicated software with scan registration required. LDC bought the software and does everything in house.
The company currently use a Faro Focus S330 laser scanner. It also uses drones and photogrammetry (the art and science of making measurements from photographs, especially for recovering the exact positions of surface points).
These technologies are also fast and accurate, but it only works when you fly (which is not good through facilities), you need a drone license and it's not as accurate as LiDAR.
For more information on using laser scanning, watch for the April/May issue of Feed & Grain.