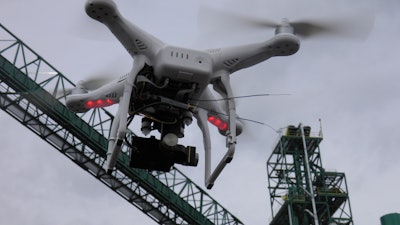 There was a time that protecting your privacy was largely in your own hands. If you didn't want someone to know your business, well, you just kept it to yourself. Now it seems that protecting privacy has become a team sport, requiring cooperation and better understanding from individuals, private sector businesses and organizations, and all levels of government.
A growing world
As populations have grown and spread throughout the world, so has the demand for better food production and distribution, faster communication methods, and easier access to and analysis of information. In just a few short years, technology has substantially changed the face of both agriculture and privacy. Now analytic programs map the land, monitor toxins and tell which fields need more nutrients or irrigation. New data tools and applications better inform planting decisions and help optimize planting conditions.
Spreading wings
Adding to this technological bonanza, drones roaming the sky will bring more accurate data and imagery to better inform decisions. As the Federal Aviation Administration (FAA) considers regulations to guide how drones can be used across American skies, including for agricultural uses, it should come as no surprise that one of the key concerns is privacy. So important is this issue that the government has signaled that it will be handled separately from the FAA rule. Of course, drones in rural areas may not set off the same level of privacy alarms that might exist in more populated urban environments, or when it's a government agency operating the drone or benefiting from its information; but as long as there is a reasonable privacy concern, it must be addressed before the technology takes root — regardless of the drone's purpose and who is operating it.
Technology vs. privacy
In agriculture today, collecting and analyzing data and imagery is critical. As in other contexts, such data programs may involve the collection of nonpublic details about a particular farm or its output that may then be shared with a third party for analysis or combined with other more private information. Along the way, the farmer whose information is being collected may not even know what happens to that data. It's no surprise then that the agricultural community is raising questions about privacy:
Who is collecting the data?
For what purpose?
What specific information is being collected?
Is it business or personal? What is being done with the data?
How will it be used — for marketing, regulatory or other government purposes?
Who has access to it?
Will it be stored, and if so, for how long?
Will it be shared with the government or with third parties?
First steps
No matter how innocuous the technology may seem to be, each one of these questions should be asked and answered in a tangible way — optimally, as the technology is developed, but at a minimum, before it is used. The current absence of rules means that those who develop, market and sell technology must be proactive in identifying and resolving privacy concerns attributable to their products and services.
Some helpful measures might include:
Data collection and sharing consent options
Setting appropriate limits on the type of information collected
Specifically assessing who should have access to the information
Defining that category
Clarifying under what conditions data may be shared more broadly
Stating clearly how long it will be retained
In other words, there should be clear privacy policies in place that guide and inform development decisions, technical specifications, and purchasing options and data controls.
Big data is everywhere and it's here to stay. By all indications, the technologies that have helped benefit farming are worth the privacy debate. And, the value we place on privacy means demanding reasonable answers about technology and how it could impact our privacy. FAA action, self-regulation and refinements to technology may change the conversation over time, but the conversation will still take place. That's a good thing. So as you look around this 3.0 world, you may not easily find something that has no connection to technology, but you will likely see there is ample room for technology and privacy to co-exist to the benefit of farming.