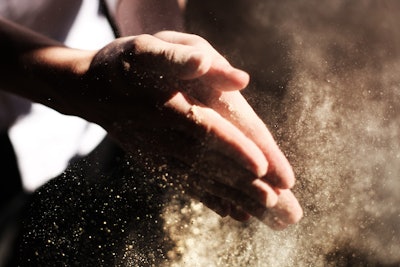 In 2012, the Federal Occupational Safety and Health Administration updated the Hazard Communication Standard to align with the United Nations Globally Harmonized Standard for Classification of Chemicals.
"The term 'Globally Harmonized Standard for Labeling' or 'United Nations Globally Harmonized Standard for Classification of Chemicals' is the term used to describe the international framework that requires chemical manufacturers and importers to evaluate the chemicals they produce or import and provide hazard information to employers and workers by putting labels on containers and preparing safety data sheets," explains Gary Huddleston, AFIA manager of feed manufacturing safety and environmental affairs.
The GHS has been the international standard since 2003, and with the alignment, grain handlers and feed manufacturers will have to start labeling one of their most omnipresent byproducts — grain dust.
"Classification means new Safety Data Sheets and labels for manufacturers, distributors and importers," said Jess McCluer, NGFA director of safety and regulatory affairs. "Based on final rule, grain handling, feed/pet food, processing and milling facilities are considered manufacturers and distributors of an explosive hazard if the product handled/distributed is combustible (i.e. 'contains grain')". According to OSHA, whole grain when processed produces dust which is a combustible hazard."
HCS vs. GHS
The biggest changes for grain handlers and feed manufacturers will be the new labeling requirements, the classification of grain dust as an explosive material.
Facility managers should have already trained their staff in recognizing the labels, pictograms and standardized data sheets associated with the new labels required under the updated law; that deadline was December 2013. They should also have gone through their old stock of labels and be shipping with the new labels and information. The deadline for that was December 2015. The final deadline was July 2015, when managers needed to update labeling and have a training program for any new hires.
Employees should be trained on the new standard ASAP, or fines could follow.
"The HCS historically has been one of the most frequently violated standards cited by OSHA inspectors, often because employers do not have a written hazard communication compliance program or conduct the required training of employees," Huddleston said.
Grain dust and whole grains
Though the GHS does not contain a classification for combustible dust, OSHA has changed the standards' definition of hazardous chemical to include combustible dust.
There are exemptions under the revised HCS just as there were under the old version. Chemicals are exempt from the HCS if they fall under the regulation of the U.S. Food and Drug Administration's Federal Food, Drug and Cosmetic Act. This means feed and ingredients that stay within the feed and food processing chain are exempt. If those products leave the chain, it will be required by the HCS to have an updated label.
When shipping whole grains things get more complicated, though covered under the FFDCA, the HCS contains language that implies all whole grains need to be labeled, and an updated HCS compliance directive OSHA clarified that grain elevators meet the definition of a chemical manufacturer.
"Food/feed products, such as grain and feed/pet food, are subject to FDA labeling requirements and, therefore, are potentially exempt from OSHA HCS labeling requirements," explained McCluer. "Individual companies should make their own determinations. The new standard does not change long-standing food exemption. To clarify: They are not exempt from developing an SDS for combustible dusts, but are exempt from certain labeling requirements. Nonfood grain is not exempt from labeling requirements."
Feed mixtures
The revised HCS requires mixtures that fall into a hazard classification to be labeled; this includes feed mixtures that may contain grain dust or other classification.
"Every facility is required to have a hazard communication program that handles hazardous chemicals," McCluer said. "The program must contain up-to-date SDSs. Manufacturers of the hazard must provide the SDS to their downstream users initially and from there annually or if there is a change made to the SDS."
With the initial shipment of a mixture, a label with all known and foreseeable hazards must be provided to the recipient. This label doesn't need to be provided more than once to the same recipient, unless there was a change in the formula. If a manufacturer is sending several similar shipments to the same recipient, they can use the same label for each product, as long as the hazards are the same.
OSHA visits
With deadlines past, most facilities should already have the new HCS implemented. If OSHA does an inspection, make sure the proper documents are on hand.
"At the request of an OSHA inspector, you would need to be able to produce your facility's written Hazard Communication Program," explained Huddleston. "You would also need to produce records showing that the required training of your employees has been completed. The American Feed Industry Association also recommends that your facility keep records showing to whom you have sent SDSs for your products and the date on which you sent them."
"Compliance with the new HCS was required by June 1, 2015," huddleston continued. "However, OSHA issued a memo on Feb. 9, 2015, allowing certain manufacturers to ship products under the old standard as long as they could show "reasonable diligence" and "good faith efforts" in requesting information from "upstream" manufacturers to develop the necessary SDSs and labels for their final products. As of Dec. 1, 2015, the new standard's labeling and safety data sheet provisions must be followed."
---
Safety Data Sheets
Sections 1 through 8 contain general information about the chemical, identification, hazards, composition, safe handling practices and emergency control measures (e.g., fire fighting). This information should be helpful to those who need to get the information quickly. Sections 9 through 11 and 16 contain other technical and scientific information, such as physical and chemical properties, stability and reactivity information, toxicological information, exposure control information, and including the date of preparation or last revision. The SDS must also state that no applicable information was found when the preparer does not find relevant information for any required element.
Section 1: Identification — This section identifies the chemical on the SDS as well as the recommended uses. It also provides the essential contact information of the supplier. The required information consists of: product identifier used on the label and any other common names or synonyms by which the substance is known.
Section 2: Hazard(s) Identification — This section identifies the hazards of the chemical presented on the SDS and the appropriate warning information associated with those hazards. The required information consists of: The hazard classification of the chemical (e.g., flammable liquid, category1).
Section 3: Composition/Information on Ingredients. This section identifies the ingredient(s) contained in the product indicated on the SDS, including impurities and stabilizing additives. This includes information on substances, mixtures and all chemicals where a trade secret is claimed.
Section 4: First-aid Measures — This section describes the initial care that should be given by untrained responders to an individual who has been exposed to the chemical.
Section 5: Fire-fighting Measures — This section provides recommendations for fighting a fire caused by the chemical.
Section 6: Accidental Release Measures — This section provides recommendations on the appropriate response to spills, leaks or releases, including containment and cleanup practices to prevent or minimize exposure to people, properties or the environment. It may also include recommendations distinguishing between responses for large and small spills where the spill volume has a significant impact on the hazard.
Section 7: Handling and Storage — This section provides guidance on the safe handling practices and conditions for safe storage of chemicals.
Section 8: Exposure Controls/Personal Protection — This section indicates the exposure limits, engineering controls, and personal protective measures that can be used to minimize worker exposure.
Section 9: Physical and Chemical Properties — This section identifies physical and chemical properties associated with the substance or mixture.
Section 10: Stability and Reactivity — This section describes the reactivity hazards of the chemical and the chemical stability information. This section is broken into three parts: reactivity, chemical stability, and other.
Section 11: Toxicological Information — This section identifies toxicological and health effects information or indicates that such data are not available.
Section 12: Ecological Information (non-mandatory).
Section 13: Disposal Considerations (non-mandatory).
Section 14: Transport Information (non-mandatory).
Section 15: Regulatory Information (non-mandatory).
Section 16: Other Information — This section indicates when the SDS was prepared or when the last known revision was made. The SDS may also state where the changes have been made to the previous version. You may wish to contact the supplier for an explanation of the changes.
---
Labeling and pictograms
Labels on products considered hazardous by the HCS should be following the new labeling system; the requirement to do so was June 1, 2015. If your facility has yet to switch over to the new labels or was unaware that products like bulk grain could be classified as a hazard under HCS, the new label consists of six parts.
According to "OSHA Brief: Hazard Communication Standard: Labels and Pictograms," pg. 1 paragraph 7:
"The HCS requires chemical manufacturers, importers, or distributors to ensure that each container of hazardous chemicals leaving the workplace is labeled, tagged or marked with the following information: product identifier; signal word; hazard statement(s); precautionary 1 2 statement(s); and pictogram(s); and name, address and telephone number of the chemical manufacturer, importer or other responsible party."
Name, address and telephone number — The contact information of whomever manufactured or imported it is responsible.
Product identifier — OSHA leaves it up to the manufacturer, importer or distributor to determine how to best identify the product. This can be the chemical name, code or batch number.
Signal word — Two signal words are accepted by the HCS, "Danger" and "Warning." These are used to indicate the severity of the hazard. "Danger" should be used when a hazard holds severe potential to harm, and "Warning" should be used for anything with less severity. The OSHA Brief: Hazard Communication Standard: Labels and Pictograms, states if there are multiple hazards associated with a shipment where one should be classified with "Danger" and other with "Warning," only "Danger" should be present on the label.
Hazard statement(s) — This section describes the nature of each hazard and the degree of a hazard. Though each separate applicable hazard statement has to be featured on the label, redundant statements can be combined for readability. OSHA Brief: Hazard Communication Standard: Labels and Pictograms pg. 2, paragraph 8, says: "The hazard statements are specific to the hazard classification categories, and chemical users should always see the same statement for the same hazards no matter what the chemical is or who produces it."
Precautionary statement(s) — These statements contain the manufacturer, importer or responsible party's recommendations on how to minimize or prevent the effects of the hazard. OSHA lists four types of precautionary statements: prevention (to minimize exposure); response (in case of accidental spillage or exposure emergency response and first-aid); storage; and disposal.
Pictogram(s) — Each of the nine pictograms (Fig. 1) is associated with a types of hazards. Pictograms must appear on the labels that contain their respective hazard. Though GHS uses nine hazards, OSHA will not be enforcing the Environment pictograph.
---
For More on This ...
In June 2015, several industry associations released a 55-page hazard communication guidance document, with detailed examples of correct program protocols. It can be found at: http://bit.ly/1SmKDyc.