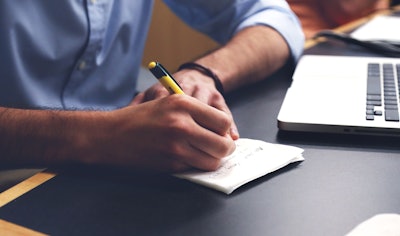 The Grain Elevator and Processing Society has a long-standing tradition of providing education to those within the grain industry, initially through speakers at GEAPS Exchange, chapter events and joint conferences with the National Grain and Feed Association, then more formally through distance, online programs such as its Distance Education Program. To date, this program — a partnership which started in 2005 with Purdue University and continues with Kansas State University — has reached more than 4,000 participants who have learned about improving job skills, grain facility design, grain quality management, grain handling/processing, industry best practices and more. This partnership has also developed credentialed Continuing Education Unit courses in the areas of grain operations management and grain processing management as well as "specialist credentials," awarding more than 130 credentials since 2013.
Now GEAPS and K-State are teaming up again, this time creating the Hands-On Training Program, a new educational program designed to reach beyond traditional on-the-job training to focus on educating grain workers on real, operational equipment. The 2.5- to 3-day course is tentatively planned for December 2017 and will be held at the Hal Ross Flour Mill located on the Kansas State University campus in Manhattan, KS. Class sizes will be kept intentionally small to allow for plenty of interaction, ensuring adequate instructor/participant interface to thoroughly learn about the equipment. The maximum class size will be 30 participants, with no more than six working on a module at a time.
"GEAPS' educational programs began with just one class," says Scott Chant, member of GEAPS' Continuing Education Program Oversight Committee (CEPOC), member of the HOT Program Task Force, and president Safe-Grain/Maxi-Tronic. "Now we offer 27 online courses, with the new HOT Program being a natural extension of our online class offerings."
"Recently, we have been hearing requests from those within the grain handling industry for more hands-on training," adds Brandi Miller, associate director, IGP Institute, which serves Kansas and U.S. commodity organizations through its global education center housed in the Grain Science Complex on the campus of Kansas State University. "To my knowledge, there isn't any other training program like what we are proposing with the HOT Program. We do a lot of professional development training at IGP, but this type of program is a bit different."
Marcus Neal, GEAPS International President and director of facility operations at Lansing Trade Group, reiterates the value of being "hands on." "Not everyone learns in the same way," he says. "Some people may be able to see something demonstrated, or listen to information presented in a lecture or in a PowerPoint presentation and pick up on it easily.
Others are more tactile … they learn by doing. The HOT Program is designed to be engaging and comprehensive so people can learn at the same time as they are doing."
Conveyor system maintenance focus
The agenda, which has been comprehensively developed by members of GEAPS' CEPOC, will focus on maintenance training for conveying equipment with training modules dedicated to screw, belt and chain conveyors as well as bucket elevators and bin sweeps.
"Maintenance training is a great topic for a hands-on learning program since it can be challenging to teach these principles without touching equipment," says Miller. "And the focus on conveying equipment is the perfect place to start because regardless of the type of facility, there is always a need to move grain from one place to another in some form or fashion, so the information presented will be applicable to virtually any grain business."
While anyone working in the grain industry is encouraged to attend, the program is designed for those individuals who have a maintenance responsibility or interest in conveying equipment at their facility.
It is for the next generation of operators and leaders who will be involved in grain handling and processing facilities, says Neal. "It will be especially beneficial for employees of companies that don't have the capital or people resources, or the equipment, to develop a training program of their own," he continues. "Not all companies have fulltime staffs dedicated to training. Yet it is still important for everyone, especially those who don't have the resources to do it on their own.
"I know for myself, even though I went to university and have an engineering degree, the information we'll be presenting through the HOT Program is information that would have been beneficial to me when I was young in the industry, 20-plus years ago," he adds.
"It can also be beneficial to people who have been in the industry for a while, or who are involved in a different segment of the industry.There are technological changes that happen all the time. And even though we provide opportunities through other avenues, such as our GEAPS Exchange, this new program will offer a great opportunity to interact with equipment, allowing people to get hands-on insight."
The agenda specifically is intended to help participants gain a better understanding of how conveying equipment works, how to perform maintenance/repairs, safety considerations and procedures when using the equipment … and what happens to grain quality when equipment isn't maintained. "In the end, grain quality is contingent on how it's handled, and if equipment isn't maintained properly, it can have an impact on quality," says Miller.
Safety is a principal theme woven into the program as well. "Our plan is to have some pre-work on safety before the course even starts," says Miller. "Because this is a hands-on training, people will be working directly with equipment and we will make sure safety is on the forefront."
Monetary/service donations still needed
All of the equipment that will be used in the training program has been made available through the generous contributions of nine companies which have donated a total value of more than $350,000 in equipment.
"The response from our equipment calling campaign was well received," says Chant, who was instrumental in leading the campaign and procuring equipment. "Feedback from our [GEAPS] members was very positive, and we now have firm commitments for the equipment necessary for the program. Everyone's donations are greatly appreciated, and we feel very blessed. Without these donations, this program wouldn't be possible."
While equipment requirements have been met, there is still a need for monetary donations to help pay for installation and mounting of equipment as well as electrical upgrades to the Hal Ross Flour Mill, a concrete pad and platform for the bucket elevator, safety equipment and instructional costs.
Service donations are also being requested for electrical updates, a concrete pad and a crane for equipment installation. While some course instructors have been identified, more are still needed.
Win/win situation
The continuing partnership between K-State and GEAPS provides a win/win for many.
"We're excited about the opportunity to work with GEAPS, and to have so much involvement and support from those within the grain industry," says Miller. "This partnership is a natural fit, given the Department of Grain Science and Industry's location at K-State.
The equipment used in the HOT Program will be used by students when it isn't being used for professional development. It will be dual purpose. The industry has made the investment not only for its own training, but also for future employees in the industry. We hope the new HOT Program will be a 'jumping off' point for additional hands-on training programs to complement what we have now started."
Editor's Note: For more information about attendance or donations, visit hot.geaps.com.