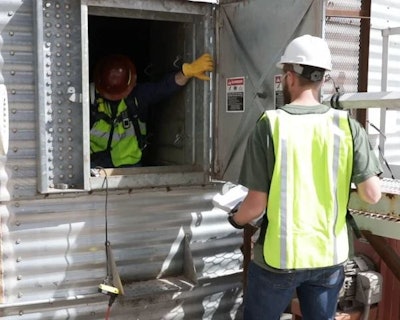 "I am begging you to find a reason not to let any of your people ever go in a grain bin."
Those were the words of Dan Mehochko, grain business manager at GROWMARK, Inc., after viewing the film SILO at the National Grain and Feed Association's (NGFA) 124th annual convention. During his emotional remarks that day, he relayed his family's personal tragedy as a result of a grain entrapment.
Mehochko's words reinforce the mission of the National Grain and Feed Foundation, which funded a showing of SILO — the first feature film about grain entrapment — during convention on March 10. As Foundation Trustee Chair Greg Beck, senior vice president of the Grain Division at CGB in Covington, LA, and NGFA first vice chairman, noted during the convention, the Foundation is sharpening its focus on grain handling safety projects and training, particularly for on-farm bin-entry safety, throughout the coming year.
Spreading awareness about the dangers of grain handling and the availability of resources that can help prevent more accidents is as important as ever. The total number of fatal and non-fatal entrapments is the highest in four years, according to Purdue University's Agricultural Safety and Health Program.
The program recently released its "2019 Summary of U.S. Agricultural and Confined-Space Related Injuries and Fatalities" report, which documents 38 grain entrapment cases that occurred in 2019. The 38 cases represent an almost 27% increase in grain entrapments from 2018, when 30 entrapments were recorded.
In 2019, the state with the most documented grain entrapments — fatal and non-fatal — was Minnesota with seven cases total. Notably, Purdue does not specifically identify the number of grain entrapment cases that occurred on farm vs. at commercial facilities. However, historically, 70% of grain entrapments have occurred on farms.
When it comes to all confined space-related incidents — including those not involving grain entrapment — 67 fatal and non-fatal cases were documented in 2019. This is a 10% increase from the number of cases documented in 2018, when 61 were recorded. Of these, 39 (58%) were fatal and 57% of all cases were directly related to grain entrapments. In addition, there were 11 incidents resulting from entanglements (i.e. exposure to powered mechanical components, such as augers). Of these incidents, five were fatal.
The summary is based on data gathered, documented and entered into Purdue's Agricultural Confined Space Incident Database.
The causes behind the significant drop in non-fatal cases is unknown, but it is believed that most confined space incidents are underreported, especially those resulting in non-fatal grain entrapments. Based upon prior research, Purdue estimates the documented annual cases represent 70% of the total number of cases that have occurred annually in the corn belt.
"Workers in the grain handling industry — as well as our farmer-customers — can be exposed to serious and life-threatening hazards," Beck said during the NGFA's 124th annual convention. "Most NGFA members are aware that the association has produced a suite of training videos, guidance documents and safety tips sheets designed to address grain handling hazards and outline best practices for incident-prevention. Our Foundation is committed to investing in projects that continue to grow these resources and spread awareness of their availability and safety best practices throughout the agricultural industry."
While there are numerous industry and OSHA resources available to assist in preventing future incidents, the NGFA and its Foundation are on a mission to increase funding dedicated to creating more resources and sharing them as widely as possible, particularly to farmer-customers.
In the meantime, there are numerous currently available resources at ngfa.org/safety to assist employers and farmers in preventing common grain entrapment hazards, as well as providing the appropriate safety standards for farms and commercial facilities.
For instance, in the NGFA's "Grain Bin Entry" training video, viewers join NGFA Director of Education, Safety and Training Jim Seibert to brush up on the basic safety precautions and equipment needed to enter a grain bin. This short video breaks down each step of the process.
NGFA's series of "Safety Tips Sheets" are designed to provide more information on certain types of hazards and suggested ways to protect employees through safety best practices. In the Safety Tips Sheet, "Preparing Bins for Harvest," appropriate methods for bin entry are outlined for grain handling facilities preparing for fall harvest.
These resources are free for anyone to access and easy to share. Let's use these opportunities to contribute to "small changes that make big impacts," which was the theme of the 2020 Stand Up for Grain Safety Week from April 13-17, a virtual event hosted by the NGFA-OSHA Alliance, Grain Elevator and Processing Society and the Grain Handling Safety Council, to help raise awareness about ways to prevent grain handling and storage hazards, provide education, training and convey safety best practices.
NGFA encourages everyone involved in the grain handling industry to take this message to heart. Make at least one small change to improve safety — it could save a life! ■
Jess McCluer, vice president of safety and regulatory affairs for the National Grain and Feed Association, manages NGFA's operational programs concerning employee safety and industrial health, environmental issues, grain-handling facility design and equipment, and grain inspection and weighing issues. McCluer joined NGFA in 2007 after serving since April 2003 as a program analyst at the Occupational Safety and Health Administration's (OSHA) Office of Outreach Services and Alliances.
U.S. GRAIN STORAGE CAPACITY
Current USDA statistics show there are approximately 8,900 off-farm commercial grain storage facilities in the United States, with a total storage capacity of 10.1 billion bushels. This equates to an average storage capacity per facility of approximately 1.1 million bushels.
On-farm storage capacity for grains is 12.8 billion bushels, according to USDA, and approximately 5,300 large grain farms exist that have storage capacity of over 400,000 bushels per farm.