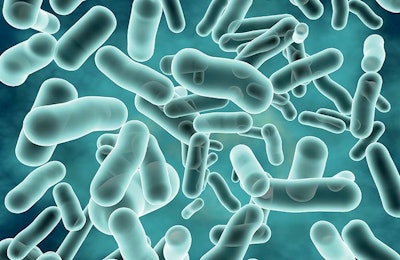 Gut dysbiosis is becoming more prevalent as use of antimicrobials is reduced, but a combination of alternatives can rebalance the microbiome.
As many countries have banned the use of antimicrobials in poultry to promote growth and prevent disease, there has been an increase in poultry digestive diseases due to gut dysbiosis, or an imbalance in the microbiome of the gastrointestinal tract (GIT), according to Aoife Corrigan, Ph.D., research project manager at Alltech's European Bioscience Centre.
"During dysbiosis, the host inflammatory response targets commensal bacteria, resulting in a loss of bacterial diversity and function resulting in reduced gut health and bird performance," she said. "Re-balancing intestinal microbiome dysbiosis can be an effective strategy to improve GIT health and improve performance. This can be achieved through the use of nutritional interventions such as prebiotics, typically leading to improved body weight, feed conversion and carcass yield."
Dysbiosis produces an imbalance in gut microbiota, which results "in reduced feed intake and nutrient absorption, reducing the efficient conversion of feed to live weight. In addition, birds under a disease challenge redirect the use of energy from maintenance and growth towards immune function and defense," said Mohamad Mortada, monogastric research scientist at ADM Animal Nutrition.
Learn more about leveraging the poultry gut microbiome for improved productivity, health.
With the elimination of antibiotics in many places, there has been more focus on alternative strategies to improve gut health without antibiotics.
"Numerous feed additives including organic acids, organic trace minerals, pre- and probiotics including many derived from yeast and probiotics have become areas of intense research in hopes of filling the void that antibiotics leave behind," said Zachary S. Lowman, of Balchem Animal Health and Nutrition's monogastric technical service.
Corrigan said it is important to manage the composition of the microbiome by accelerating its evolution "to a diverse and steady state and then maintaining the balance."
"Optimizing the microbiome at an early age means the inherent intestinal health risks of intensive production systems such as gut dysbiosis can be avoided. It is important to recognize that the use of non-antibiotic alternatives is more preventative and should be considered as an overall strategy. As such, it is unlikely that a single economically viable replacement to antimicrobials can be implemented and that a multi-pronged approach is required," she said.
An important aspect of microbiome manipulation with antibiotic-free alternatives is timing.
"The direct effects of dietary supplementation on the microbiome are likely to be observable within days, while the length of an intervention required for observing microbiome-mediated effects on the host phenotype may be much longer," Corrigan said. Although a complete understanding of when to use these solutions have not been fully defined, their administration during critical periods of stress tend to be beneficial. These critical periods can cause a change in the intestinal environment and increase the risk of poor nutrient utilization, inflammation and dysbiosis."
It is important to remember that, while antibiotic replacement strategies should be multi-pronged, she said, they can also have multiple benefits – and not only on gut health.
"An effective alternative to antimicrobials should have a significant and sustainable beneficial impact on animal production, be safe for the animal the consumer and the environment, be easy to apply and store and provide a substantial return on investment," Corrigan said.
---
Announcing the Feed Mill of the Future digital supplement

WATT's feed brands Feed Strategy and Feed & Grain magazines join forces to launch the monthly Feed Mill of the Future digital supplement. Each edition aims to provide animal feed industry stakeholders with forward-looking content, market insights and a spotlight on the leading-edge technologies shaping the global feed industry of tomorrow.

Subscribe today! https://bit.ly/3dWzow7