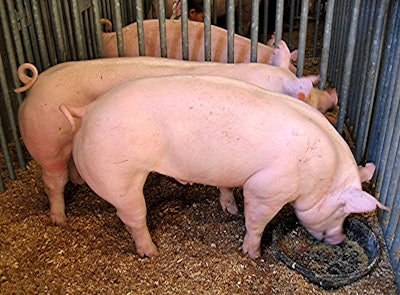 Hog Producers Around the World Feel Pain from Trade War
Hog farmers and pork producers in the U.S. find themselves in very poor margin environments as tariffs on pork from China and Mexico take their toll. China has imposed 62% duties in response to U.S. tariffs and Mexico has 20% duties of its own. China and Mexico represent the two largest export markets for U.S. pork. In Brazil, feed prices have skyrocketed as hog farmers must now compete with Chinese buyers to source soybeans, as China has been keen to buy as many South American soybeans as possible to avoid U.S. tariffs. Brazil is the fourth largest producer and exporter of pork in the world. Chinese hog farmers have also been struggling to feed their herds as the soybean prices have risen dramatically following the trade war with the U.S. Many Chinese farmers have been sending their hogs to slaughter, weighing down on the price of pork. WH Group, the largest pork producing company and owners of Smithfield, have stated that excess supply of meat on the market is now their biggest hurdle.
Drought Conditions In Eastern Australia May Cut Total Crop Production In Half from 20-Year Average
With the eastern portion of the country in the midst of one of the worst droughts in decades, Australia expects to see a 23% drop in total grain and oilseed production. Eastern Australia by itself is forecast for production to fall 53%, which is home to major wheat production areas. Winter wheat production is expected to decrease by 13% to 16.6 MMT and canola is set to drop 20% to 2.2 MMT. Despite feed prices increasing, Australian slaughter rates for cattle and sheep have not moved much higher. Livestock run on pasture in SE Australia have been moved further north in large numbers as due to drought stress on pastureland.
Export Sales Announcement
Private exporters reported to the U.S. Department of Agriculture export sales of 260,000 metric tons of soybeans for delivery to unknown destinations. Of the total 200,000 metric tons is for delivery during the 2018/2019 marketing year and 60,000 metric tons is for delivery during the 2019/2020 marketing year.
5-Day Weather Forecast Calls for Rains Over East, Rain OverRest of Midwest Next Week
In the 5 day forecast, the Eastern Corn Belt can expect up to 1.5 inches of rain with a weather pattern starting over central Illinois moving east through New York and the Mid-Atlantic. Rain continues to be forecast for the Ohio River Valley, which has been struggling with flooding and quality issues for soybeans that have yet to be harvested. The 6-to-10 day forecast shows another storm pattern sweeping up from NE Texas up through Michigan. Some areas could see as much as 3 inches of rain.
The risk of trading futures, hedging, and speculating can be substantial. FBN BR LLC (NFA ID: 0508695)