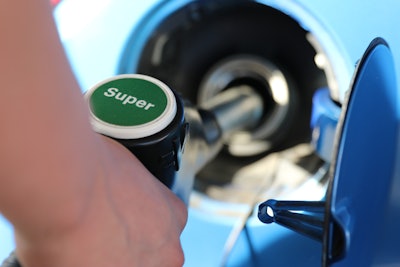 Vital to the overall food system, ethanol is far more than a home-grown fuel source for cars. Almost a third of the nation's corn crop is used to make ethanol and its byproducts, like the distillers grains livestock producers feed to their cattle and the CO2 manufacturers use to make food and beverages.
Unfortunately, ethanol production has nearly ground to a halt as COVID-19 precautions coupled with stay-at-home orders have slashed fuel consumption and restaurant dining, and with it, ethanol use. As of April 7, 62 ethanol plants reported slowdowns and reduced capacity and 44 plants have completely stopped production, e.g., Ethanol Plants Pushed Toward Unprofitability. When ethanol demand goes down, corn prices follow, and the commodity's price continues to fall heading into planting. The uncertainty of ethanol demand has left many wondering how the industry will get back to normal. This article provides an update on ethanol following its hardest-hit month on record.
Ethanol Production Slows to Almost Half
Ethanol production has slowly increased since the Energy Information Administration began reporting on the industry in 2010. Regular weekly production has grown from a range of 800-900 barrels per day to 900-1,000 barrels per day through 2019. Since the first case of COVID-19 was announced in the U.S. in February, ethanol production has accumulated a 60% week-over-week decrease in output volume. Ethanol production hit its low during the week of April 24, when production levels were at a meager 537,000 barrels per day. As of the end of April 2020, ethanol production was 42% lower compared to the same week in 2019. At that time in 2019, ethanol production held steady between 850,000 to 1.1 million barrels per day. During COVID-19, ethanol production has lingered within 500,000 to 600,000 barrels per day for the month of April. Figure 1 displays historic weekly ethanol production levels for the past five years and includes the beginning of 2020.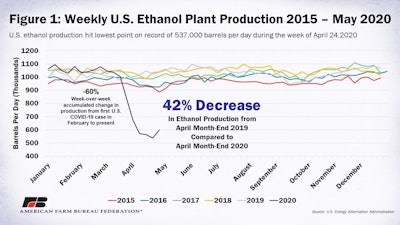 Ethanol Inventories Peak
With the slow pace of consumption and production of ethanol, ethanol inventories continue to climb. Historically, ethanol stocks have been on the rise since 2010, ranging between 15,000 barrels to 20,000 barrels. In 2017, stocks settled in a range between 20,000 barrels and 25,000 barrels. It was not until this March that ethanol stocks topped 25,000 barrels and climbed higher. Ethanol stocks peaked at 27,689 barrels the week of April 17 and remain above 25,000 barrels. Ethanol stocks were 14% higher at the end of April 2020 than they were at the end of April 2019. Since COVID-19 was announced in the U.S. in February, ethanol stocks have accumulated week-over-week growth of 7%. It was not until the week of April 24 that ethanol stocks saw their first reduction since the end of March when ethanol plants began slowing production. Figure 2 displays weekly ending stocks for 2018, 2019 and the beginning of 2020.
Summary
Some states have introduced plans to start reopening commerce, which could spark fuel consumption and foodservice use, ultimately boosting ethanol demand. Until ethanol demand returns, alternative uses of ethanol plants have been sought and substitutes, like soy meal, are being used when possible. However, these are not long-term solutions and will not compensate for the stall in the growing ethanol industry and the many byproducts it offers. The effects of the ethanol production slowdown may ripple through many industries long after the U.S. reopens.
Contact:
Shelby Myers, Economist
(202) 406-3724