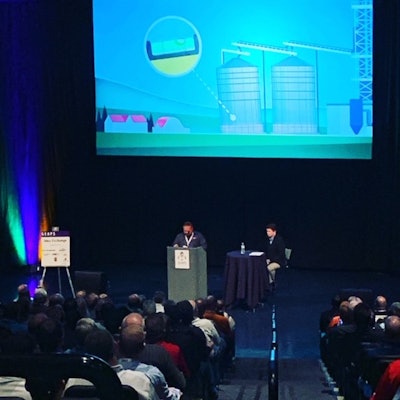 The Idea Exchange is one of the most exciting education opportunities at the GEAPS Exchange to see what's new to the industry and on the show floor. Each year a variety of companies and grain industry professionals give brief presentations on how their product or idea benefits the industry.
Following are some examples of the innovations on display at this year's Idea Exchange:
For use with your cell phone, this mobile receiving feature allows for scheduling, dispatch, job assignment, tracking, progress, trucker self service, food safety tracking and automated or semi-automated receiving to occur no matter what the weather, without the driver ever having to leave cab of vehicle.
GSI GrainViz creates a three dimensional moisture map using technology similar to that of an MRI or CT scan. Operators can see the moisture content of each individual bushel of grain and its location within the grain mass.
The system can also detect human, insect, or rodent activity. Instead of reporting problem spots after they are an issue, GSI GrainViz users can proactively manage the quality and quantity of their stored grain. The system's customer portal makes it easy to remotely monitor and manage grain conditions, control fans and receive detailed inventory reporting via any Web-enabled device.
Pepper Maintenance Motion Amplification
Iris M technology platform from RDI delivers real-time video to enable users to make instant decisions about manufacturing operations. Unit monitors critical manufacturing operations, processes, and quality and structural components that affect reliability and productivity and is designed for screening, fault finding, baseline or commissioning and pre/post repairs or retrofits
C-Tec Ag Soil Stabilization using Deep FoamJection
C-Tec's Soil Stabilization using Deep Foam Jection is a new technological advance that stabilizes and strengthens the soil under existing structures. Drilling deep and injecting specialized formulated polyurethane foam expands to compact weak soil, fill voids and bind soils. Technology can be used to stabilize, lift and level equipment pads and raise sinking bins.
Designed to safeguard employees from injuries during unloading process, the Trap Turner hopper trailer opener offers quiet and non-impacting pneumatic operation with no torque transmitted back to operator.
INTL FCStone Financial Inc Know-Risk
Know-Risk focuses on using data to optimize crop marketing and connects grower's crop marketing data with agronomy data modules. The producer is guided by market advisor regarding best tool – such as futures, hedge-to-arrive, or minimum price contract - to lock in the price.
Extron Directional Flow Grain Spreader
Extron's Direction Flow Grain Spreader has a capacity up to 45,000 bushels/hour. Designed to meet specs of your bin, the low adjustment can be made from outside bin while filling. Excellent for leveling bins, unit also spreads out fines and buries pods.