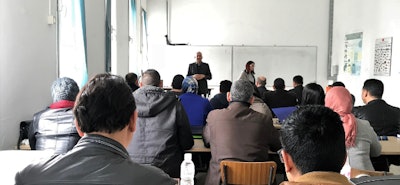 Training feed industry professionals in Tunisia is one way the U.S. Grains Council (USGC) is one way the U.S. Grains Council (USGC) is building demand for U.S. feed grains across Africa and the Middle East.
As part of a U.S. Department of State grant awarded to USGC in 2018, and in collaboration with the Tunisian National Institute for Agronomy (INAT), USGC is training 47 Tunisian feed industry professionals through a combination of technical, in-classroom instruction on feed manufacturing and animal nutrition as well as practical, hands-on training conducted at INAT's newly-completed feed center.
"Global surveys of the feed industry have shown those in the Middle East and Africa are often small and less efficient than they could be compared to other regions," said Kurt Shultz, USGC senior director of global strategies, who oversees the USGCl's programs in the region. "However, that is changing rapidly, as growth and investments are increasing. The Tunisian training center will educate the next generation of feed millers, facilitating growth in regional feed production."
Strengthening the program is the active participation of experts from Iowa State University (ISU) and the Northern Crop Institute (NCI), who are working with INAT to develop curriculum for the program. These two institutes hosted 11 Tunisian feed industry professionals through a two-week training program last summer. Designed as a train-the-trainer program, they learned about grain storage, feed ingredient handling and feed plant design. This program was preceded by a five-week online training program that helped establish a base level of understanding of the key concepts related to poultry, ruminant and aquaculture nutrition.
USGC has been working closely with INAT to establish its feed center's feed mill training facility over the past year and to purchase and install the necessary equipment for the hands-on feed manufacturing training. INAT's training center includes essential equipment necessary for producing quality feed, including a hammer and roller mill used for training and to demonstrate new technology for feed production and livestock professionals.
USGC worked with Dr. Dirk Maier, ISU, and Dr. Kim Koch, NCI, who traveled to Tunis last week to ensure proper installation and set-up of the feed mill. While in Tunisia, Maier and Koch reviewed the feed center's training curriculum with INAT and the Council's Middle East and Africa staff as they begin to plan for a second in-classroom training program at ISU and NCI this summer, which will host an additional dozen Tunisian feed industry professionals.
"USGC's goal is to see more than 150 of the next generation of feed professionals in Tunisia enhance their expertise in feed production to develop and professionalize the feed and livestock industry in Tunisia," Shultz said. "In the longer-term, the Council plans to expand training opportunities at the feed center beyond Tunisian feed industry professionals. Through a recently-awarded, three-year USDA grant, USGC will begin training industry professionals throughout the Middle East and Africa later this year."
Ultimately, USGC envisions INAT's training center as a regional resource offering programs tailored to the specific needs of feed industry professionals across Africa and the Middle East. Through these training programs, feed production in the region will become more efficient and widespread, stimulating demand and leading to U.S. agricultural exports to this dynamic region of the world.