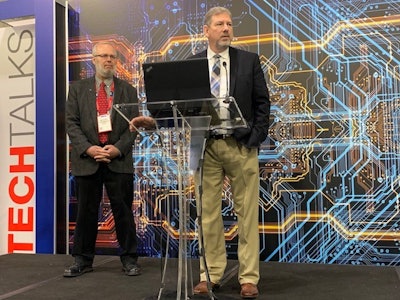 In 2014, China proposed an ISO work standard for feed machinery -– a global, consistent certificate of conformity for all participants.
Created from that proposition is the ISO/TC 293 Feed Machinery Standard –- a standardization of single feed machines, processing systems and complete production lines, including safety, hygienic requirements, environmental protection and specific technical requirements of feed machinery used in feed processing mills.
There are three focus areas for the ISO standard: terminology, safety and hygiene.
Currently ISO/TC 293 has two active projects: ISO/WD 24248 Feed Machinery Terminology and ISO/WD 24142 Safety Requirements, which are requirements for dry and semi-dry single feed machines, processing systems and complete production lines.
One project is planned to cover hygiene of feed machinery.
"It usually takes three to five years to develop a standard," says Gary Huddleston, directory of feed manufacturing and regulatory affairs with the American Feed Industry Association (AFIA), during a TECHTalk Tuesday at IPPE 2020 in Atlanta, GA. "The terminology standard is close to being complete, while the safety requirements project is about a year in."
Currently, there are 13 countries participating and 13 observing in the ISO/TC 293 development.
Creating standards is important for the industry because it's the international language of our business, says Scott Cedarquist, director of standards & technical, American Society of Agricultural and Biological Engineers (ASABE).
"U.S. manufacturers did not initially support the need for additional standards for our industry," he says. "But when the work was approved, it became necessary to get involved."
If you ship feed internationally, standards created by ISO/TC-293 will affect your company, says Cedarquist.
Why is it important to be involved? "Because these standards do affect the way we do business," says Huddleston. "It will impact you, so you should get involved to have your input heard."
There are several ways to get involved:
Join the U.S. mirror committee ISO/TC 293
Participate on the international working groups under TC 293 in the actual discussion and writing of the standards
Consider a leadership position in the committee in the future
For questions or more information, contact Gary Huddleston, AFIA, at [email protected] or Scott Cedarquist at [email protected].