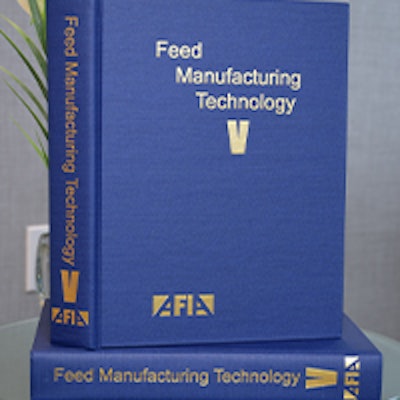 During the Feed Production Education Program at IPPE 2020 Wednesday morning, Gary Huddleston, AFIA director of Feed Manufacturing and Regulatory Affairs, shared the news that the Feed Manufacturing Technology (FMT) resource, which was first printed in 1970, will now be available online.
"The online version will take advantage of videos and hyperlinks," says Huddleston. "It will also make the resources more accessible. Content will be easily searchable and easier to keep current as well."
The FMT Conversion Project involved several committees, forming a task force and hiring a content coordinator team to oversee the update.
The FMT content categories will essentially remain the same, with the exception of new regulatory and energy management sections. Content ranges from feed industry history to manufacturing operations to specialty feed, quality assurance, computer applications and more.
The 2020 update will be 18% new information, including an entirely new feed history and information section, a chapter on biosecurity, five new regulatory chapters, including FSMA, and a new energy management section.
The remainder of the content will be updated over the next two years, to be completed by June 2022.
The future rotational update and review will begin in January 2023, so that the entire resource will be completed updated every five years.
Pricing
AFIA Members Subscription online only $299 first year/$50 annual renew
AFIA Members Printed copy $349 first year/$50 annual renew
AFIA Member Bulk (25 or more) online - $249 first year/$50 annually
AFIA Member Bulk combo - $299 first year/$50 annual renew
AFIA Member annual renew with printed copy - $149
AFIA Member AFIA 500 course participant = $199 (6-month subscription)
Special student pricing available
For more information, visit afia.org.