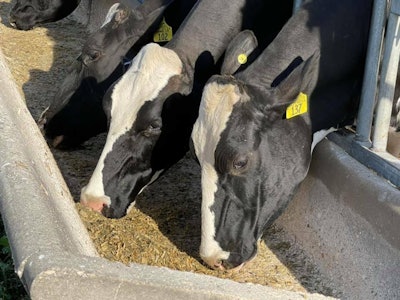 The results from Alltech's 2021 U.S. Harvest Analysis revealed that the mycotoxin risk was notably higher for forage harvested in 2021 compared to the previous year.
As dairy producers are now opening their forage bunks and taking 2021 corn out of their silos, the mycotoxin risk has been found to be amplified in the total mixed rations (TMR) that are being tested in the Alltech 37+ laboratory.
Almost 140 TMR samples have been tested since the beginning of January 2022, and the results show that 100% of samples contain mycotoxins, with an average number of 7.5 mycotoxins per sample.
For dairy producers, type-B trichothecenes such as DON and zearalenone are the mycotoxins that can cause the most issues, as synergistic effects can occur between the type-B trichothecenes and zearalenone, and the presence of multiple mycotoxins can lead to additional challenges.
Working with dairy producers on-farm, Alltech team members across the upper Midwest and Northeast regions of the U.S. are seeing mycotoxins impact factors such as dry matter intake, milk production, digestion, reproduction, gut health and immune response.
"The perfect storm has occurred for mycotoxin risk throughout the Midwest and Northeast regions, as high levels of multiple mycotoxins are causing significant issues with health and performance on-farm," said Dr. Max Hawkins, technical expert with Alltech's Mycotoxin Management team.
"Unfortunately, this is not a problem that is likely to disappear in the short term."
Long periods of drought during the 2021 growing season were compounded by late-season rains close to harvest, presenting significant challenges to the crop quality.
Fusarium mycotoxins dominated as levels of type-B trichothecenes — including DON — doubled compared to the numbers seen in 2020.
The humid conditions also favored the development of zearalenone, a toxin that can lead to significant fertility problems in livestock.
Dr. Hawkins added that when dairy producers feel that their herd is not performing to its fullest potential, he would recommend regular mycotoxin testing as a key tool for understanding and managing any risk that may be present in the TMR.
To hear more from Dr. Hawkins about mycotoxin testing and risk, watch this video. For more information about Alltech's Mycotoxin Management program, visit knowmycotoxins.com.