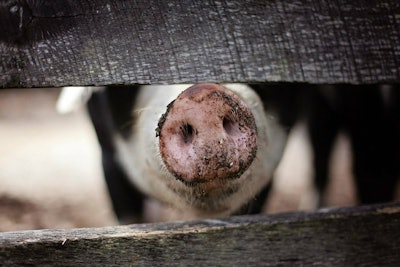 The first half of the year for pork has come with higher prices and record-high cash offerings.
According to the latest American Farm Bureau Federation Market Intel, futures have been volatile, falling after mid-June, but showing some recovery in July.
Strong cash and declining futures prices indicate that a traditional seasonal high has been established.
More meat in cold storage

Domestically, higher food prices have consumers eating less meat.
On the global front, U.S. pork exports to Mexico and Canada are booming.
At the same time, China has rebuilt its hog numbers and is not importing as much pork in 2022.
The combination of these factors has resulted in more meat in cold storage.
Pig crop likely to decline

The latest USDA Quarterly Hogs and Pigs report confirmed further contraction in the pork industry.
This means that farmers have increased the number of sows being slaughtered and the pig crop is likely to decline in days ahead.
African swine fever continues to threaten

African swine fever (ASF) has begun popping up in Germany and continues to be a threat to hog herds worldwide, including in the Dominican Republic and Haiti, which are too close for comfort to the Commonwealth of Puerto Rico.
Various USDA agencies are working to keep ASF from entering the U.S.
Slower pork exports

Exports overall have been below 2021 levels but as pork prices rise globally, countries such as Mexico have been looking to other sources.
Mexico and Canada have taken the lead in U.S. pork exports over China, the leading importer of U.S. pork in 2021.
China faced problems with industry contraction and low hog prices due to an oversupply of pork, prompting them to elevate tariffs on U.S. pork to 12% in January 2022.
Sources indicate that hog prices have begun to climb but the question of whether China will become a buyer of U.S. pork later in the year remains. China entering the market would mean increased demand for U.S. pork.
Higher hog prices in the fall
The AFBF Market Intel report says the good news is the market started off the year strong and has maintained profitability through the first half of the year, even with increased feed costs.
USDA's Quarterly Hogs and Pigs report estimates the June 1 inventory of all hogs and pigs down 1%. Inventory has been declining since its peak in 2020.
This is an indicator that the U.S. is in the contraction phase of the pig cycle.
The spread of ASF in Europe is crippling their exports, and there is potential for China to become a buyer of U.S. pork again later in the fall.
These two events happening at the same time as contraction in the U.S. hog industry could both help drive hog prices higher in the fall.